WWE SummerSlam 2016 - More Details On Brock Lesnar vs Randy Orton Finish
Who knew what?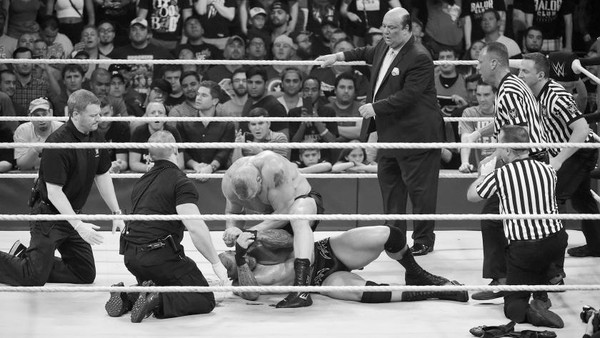 The main event of SummerSlam played host to one of the most grisly match finishes WWE has aired in a long time. After Randy Orton kicked out of the F5, an angered Brock Lesnar took off his gloves and began to perform a disturbingly stiff ground-and-pound on "The Viper." During the beating, an elbow from "The Beast" badly lacerated Orton's forehead, forcing the referee to call for the bell.
The Wrestling Observer is reporting that the finish was actually planned exactly as it happened, although there was more blood than anticipated. Brock was always meant to bust Orton open with strikes, raising questions regarding WWE's existing rules and hypocrisy - after all, the practice of blading is banned, but it's intrinsically much safer than trying to get blood the hard way. Having Lesnar use his elbow to split Orton's head open also left "The Viper" open to the possibility of suffering a concussion, though he didn't.
Reportedly, when Orton got to the arena for SummerSlam, he was told that the bout wasn't going to be a back-and-forth contest - instead, it was going to be a one-sided rout, the goal of which was to make Lesnar look strong. He was also told that Lesnar could bloody him without hurting him, although that turned out to be untrue, given the ten staples Orton needed to close his head wound. "The Viper" didn't complain publicly, but he was unhappy about what happened and won't be doing any such favors for the company again.
Furthermore, The Observer is reporting that although the referee for the match knew that Brock was going over, he didn't know the actual finish, so the confusion surrounding the end of the bout was legitimate.
Create Content and Get Paid
---