WWE TLC: John Cena Vs. Seth Rollins In A Tables Match
More matches and stipulations announced during Monday's Raw.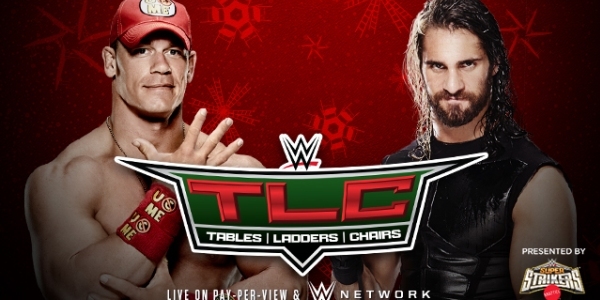 There were several things announced during Raw regarding the WWE TLC PPV taking place on December 14. It looks like WWE is close to having a full lineup set for the show. The WWE Title will not be on the line at the show. The WWE Champion Brock Lesnar hasn't been at a WWE show since September's Night of Champions PPV. He is expected on Raw next Monday for the Slammy Awards although that is just to build up a Royal Rumble match (not yet announced as official) against John Cena. Here's a rundown of the top matches.
Tables Match: John Cena vs. Seth Rollins
- This was announced on Raw with the stipulation that if Cena loses the match then he's no longer the #1 Contender to the WWE Title. It would be a surprise if Cena lost.
TLC Match: Bray Wyatt vs. Dean Ambrose
- They had a brawl on Raw although it didn't last that long. This should be the most violent match at the PPV. It's tough to pick a winner.
Chairs Match: Ryback vs. Kane
- It would be a shock if this was a great match. They should keep it short because they're not exactly the best in-ring performers these days.
Tag Team Titles: The Miz & Damien Mizdow vs. The Usos
- It's smart to put The Usos back in the title picture. They're still the best babyface team in the company. Now they have the storyline with Miz talking to Naomi, who is Jimmy Uso's wife. As of Monday night, if you go to WWE.com's page for TLC those are the only four matches that are official. However, there are three matches that are also very likely.
Divas Title: Nikki Bella vs. AJ Lee
- This would be the rematch from Survivor Series when Nikki beat AJ. They had AJ go over on Raw by submission. It seems unlikely that they would do a title change to kill Nikki's momentum although WWE always loves going back to AJ.
Big Show vs. Erick Rowan
- This match wasn't announced officially. They had a match on Raw that ended in a DQ, so they will have probably have that next match at TLC.
IC Title: Luke Harper vs. Dolph Ziggler
- Since Harper attacked Ziggler during Raw in the opening segment with a ladder, there's a chance that this could be a Ladder Match for the IC Title. They could put the IC Title back on Ziggler, but Harper holding the title would be fine too. Those are the seven matches that WWE either has announced already or are building to for TLC. It's not a bad lineup, but it's likely not going to be a "must see" show for fans that aren't really invested in the WWE product right now.