WWE Worked Everyone In The Company With This Royal Rumble 2023 Moment
WWE demonstrated how to work the locker room at Royal Rumble 2023.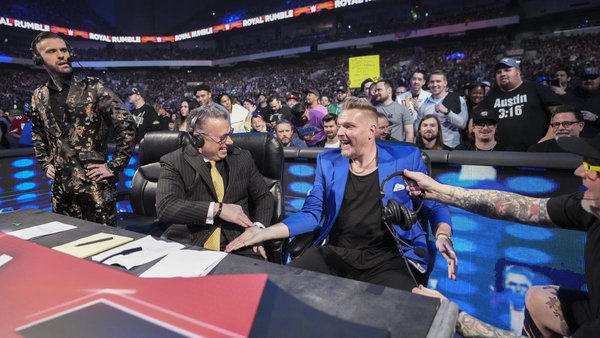 WWE kept a lot of people in the dark when it came to Pat McAfee's return at Royal Rumble 2023.
PWInsider's Mike Johnson reports that the show-opening moment was kept secret from a lot of people, with the promotion holding the situation "close to the vest."
Most of WWE's production crew didn't get told about it prior to McAfee's entrance music hitting ahead of the men's Royal Rumble. This meant that when he hit ringside, there was a scramble to find a headset and chair for Pat, as he took his place alongside Corey Graves and Michael Cole in the announce booth.
McAfee's broadcast partners, Cole and Graves, weren't clued in on the situation. The duo were ready to call the show as a twosome. This meant that their surprised, excited reactions to McAfee's appearance were real and organic.
Whether or not Pat will be back on SmackDown on a regular basis following his Rumble comeback remains to be seen. The former NFL punter had been on hiatus from WWE duties since September 2022, when he announced a deal to work on ESPN's College GameDay show, though he was always set to return to pro wrestling once those obligations had wrapped.