WWE Wrestlers Disagree With The Undertaker's Shoot Comments On Joe Rogan Experience
How WWE roster feels about The Undertaker's comments on modern day wrestling being "soft".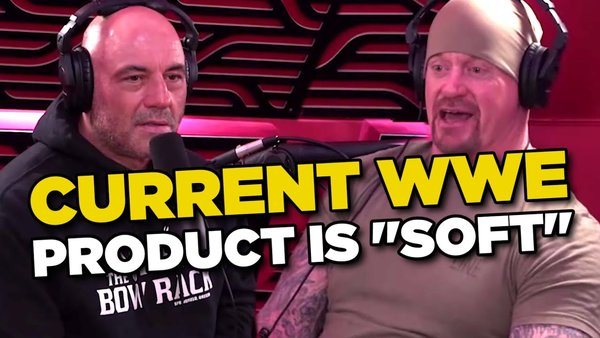 A number of wrestling stars have responded to The Undertaker's recent shoot comments regarding the current WWE product and backstage environment.
During a recent appearance on the Joe Rogan Experience, 'Taker spoke of how hard it was for him to watch the current product, stating:
"It's tough right now for me (to enjoy the product). Cause the product has changed so much and it's kind of soft. I'll probably piss a lot of people off but they need to hear it. It is what it is."
He also noted how the locker room had changed significantly since the days of "crusty f*****g men", saying:
"That era of guys too, those were men. You go to a dressing room nowadays it's a lot different. I remember walking into my first real dressing room and I saw some crusty f*****g men, right. Like half of them had guns and knives in their bags and, you know, s**t got handled back then. Now you walk in, you know, there's guys playing video games and f*****g, you know, making sure they look pretty... It's evolution, I guess. I don't know what it is but I just prefer, I don't know, I just liked those eras, man. I liked that when men were men."
Now, a number of wrestlers from inside and outside of WWE have reacted to these divisive comments in interviews and on social media. WWE Champion Drew McIntyre told Sportskeeda that he didn't agree with 'Taker's statement, admitting:
"I don't agree whatsoever. Especially from an in-ring perspective. I've listened to part of it, I've got to listen to the whole thing it's pretty new. But I think he may have been referring to like the kind of storylines and characters etc."
The New Day's Xavier Woods respectfully responded to the statement by tweeting out about how the previous generation influenced him greatly:
"I wouldn't be the person that I am without the guidance and lessons of a few key people from the previous generation of wrestling. They taught me about the business, to save my money, & that having video games in the locker room is healthier than having [redacted]. Thank you guys."
Former WWE star Aiden English also had a thing or two to say on the matter when asked how he felt about 'The Deadman's comments by a fan, tweeting:
"I understand where someone from his era and time thinks this. Nothing but the utmost respect. However - in the 2020's I think it's amazing! It's a lot of fun and camaraderie for the locker room! ...would you rather we do drugs?"
And AEW's Trent had a rather blunt take on 'The Phenom's highly publicised point of view on Twitter, too:
"bad take. the undertaker needs to be put in jail."
Though many may not agree with Mark Calaway's opinion on the current WWE product of locker room environment, he did get one thing right; He's managed to piss off a few folks with his not-so-wise words.