WWE's Big Show Reveals Funny Rib Story About The Undertaker & Triple H
"I could hear Hunter belly laughing at the curtain".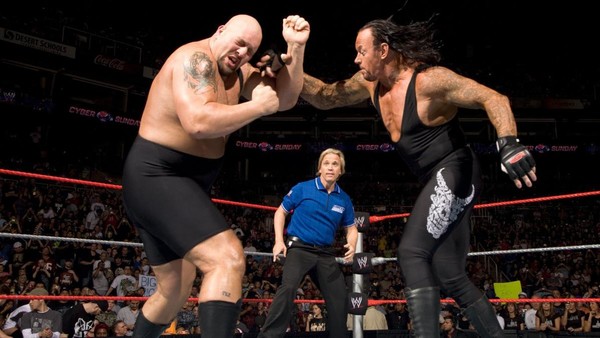 Big Show admitted he was ripe for a good rib during his earlier years in WWE on New Day's 'Feel The Power' podcast.
The giant recalled training legs in the gym with Triple H one afternoon before a house show. He was feeling pretty damn good going into his match with The Undertaker, but he didn't know that Trips and 'Taker had conspired to share a laugh at Show's expense.
As soon as the bell started ringing, The Undertaker made a beeline for Show's huge tree-trunk legs and deliberately stuck his thumb right in his peer's quad muscle. Reeling back in slight shock and pain, Show asked, "What the f*ck is that?".
'Taker replied, "What's the matter? Those legs sore?", and that's when Show clicked. He said he could almost hear Triple H laughing from behind the curtain.
Every time Show started to get comfortable with what they were doing in the match, 'The Deadman' would reach back down and pinch or prod his legs. That made it impossible for the big man to get into a groove, and he said, "That's how those guys rib".
What a pair of pranksters.
Create Content and Get Paid
---