WWE's Cameras Were Supposed To "Shoot Around" THIS Controversial Moment
Vince McMahon thought his camera crew could "shoot around" Kofi Kingston's creative.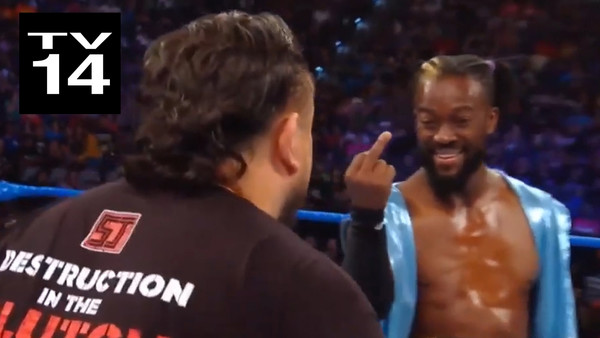 Vince McMahon once told Kofi Kingston that WWE's camera crew would "shoot around" his controversial middle finger on the 2 July 2019 episode of SmackDown.
Kofi, who asked his boss for permission before throwing up a one-fingered salute at Samoa Joe, told listeners on his 'New Day: Feel The Power' podcast that McMahon was game for the gesture so long as WWE's cameramen could mask it.
They erm...didn't.
Kingston recalls telling Vince, "Good luck" before leaving his office. Come crunch time, the cams memorably caught Kofi flipping off Joe - they even captured his cheeky expression. That face is one Kingston pulled because he knew this sort of thing didn't exactly fit WWE's corporate profile in 2019.
He couldn't actually believe that McMahon had been up for it at all.
Lord only knows what Vince thought the cameras were going to do. They had no reasonable shot at hiding Kofi's middle finger. If they were going to film his face, then they were gonna see the finger. It's really as simple as that.
Maybe McMahon was busy and just wanted Kofi out of the office. Who knows?