WWE's Carmella Accused Of Gimmick Theft In Absurd Jersey Shore Feud
Jersey Shore's Angelina Pivarnick accuses WWE star Carmella of catchphrase theft. Beef ensues...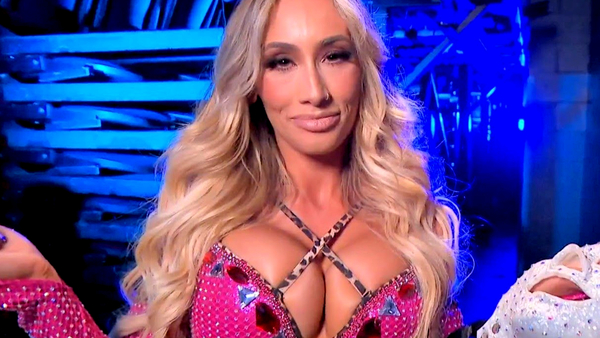 WWE star Carmella is currently embroiled in a social media feud with Jersey Shore's Angelina Pivarnick, who claims the former SmackDown Women's Champion based her wrestling gimmick off her persona.
The situation started unravelling on social media last week. Pivarnick kicked it off by quote-tweeting WWE's official account, which had posted a clip of Carmella from the 4 July Raw episode, taking issue with the use of "ummm hello"-
Hey @CarmellaWWE you're using my line !!! Wtf. Sooo you're from Staten and you're using ummmm hello too Hmmmmm #weird #comeupwithyourownshit https://t.co/CheA2NNesK

— Angelina Marie (@angelinamtvjs) July 5, 2022
Carmella responded with a gif, claiming to not know who Pivarnick is. Things only escalated from there. The Jersey Shore star reiterated her belief that 'Mella had based her entire pro wrestling persona off of Staten Island, New York ('The Princess of Staten Island' has been Carmella's nickname for years) and herself, claiming to have met her in the past:-
Bitch please. You know exactly who I am and your whole gimmick is based off of me and Staten Island lollllll @WWE @CarmellaWWE Please take several seats girl. Lol. Get your own s**t and cut the crap already. We spoke years ago when u first started with wwe lolllll. Bye https://t.co/5QatyUdiie

— Angelina Marie (@angelinamtvjs) July 9, 2022
Another pithy quote-tweet followed, with Carmella tagging Angelina's fellow Jersey Shore cast members Jennifer Farley and Nicole 'Snooki' LaValle:-
Hey @JENNIWOWW / @snooki come get your girl. https://t.co/dYUrx41WVq pic.twitter.com/PNDNB1s9CR

— Mella Is Money ? (@CarmellaWWE) July 9, 2022
Pivarnick, meanwhile, just keep going:-
I will fight her for free. f**k the money. Shows how serious I am. I'm sick of her trying to be me with the umhello catchphrase! Catch these hands for free. Everyone thinks I'm starting s**t which I'm not. She starts all the time with me then pretends she doesn't know who I am https://t.co/ol0cUOsAE2

— Angelina Marie (@angelinamtvjs) July 9, 2022
And going.
And going.
Carmella is fresh off re-entering title contention in WWE, having challenged Raw Women's Champion Bianca Belair at Money In The Bank 2022 on 2 July. Pivarnick already has some pro wrestling appearances on her resume, meanwhile, having featured on two IMPACT Wrestling episodes in 2011.