WWE's Corey Graves And Carmella Get Married
Announcer and former women's champion get married with several wrestlers in attendance.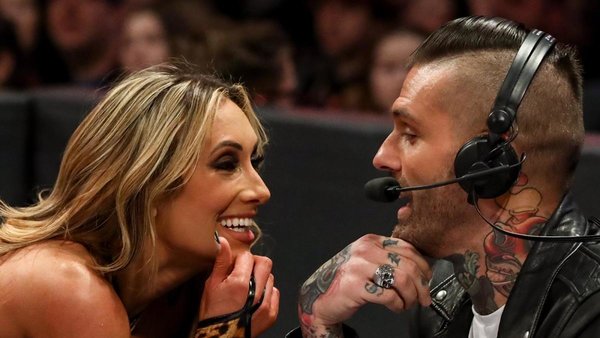 Corey Graves and Carmella paid off the weeks of ogling and fawning Thursday when the couple finally officially tied the knot.
The couple's engagement had become part of WWE canon in recent months, with Graves' swooning over The Most Beautiful Woman in WWE being exposed as the announcer professing his love for his fiancée rather than just a Jerry Lawler-esque drool-fest.
Carmella and Cory Graves today at their wedding. pic.twitter.com/2nZ8Fn4f52

— Female Locker Room (@femalelroom) April 7, 2022
In recent weeks, the couple's antics have been turned up to 11, with Carmella getting distracted and leaving her tag matches to be attended to by Corey, who similarly would abandon his commentating duties. This led to friction between Carmella and her tag partner Queen Zelina, who subsequently lost their WWE Women's Tag Team Championship to Sasha Banks & Naomi at WrestleMania 38.
The following night on Raw, Zelina and Carmella broke up as a tag team, and Carmella rushed into Graves' arms, as the couple proceeded to make out on TV until the cameras cut away.
Several current and former WWE superstars were in attendance at Corey and Carmella's wedding, including Natalya, Tyson Kidd, Bayley, Renee Paquette, Jon Moxley, Tamina, Sonya Deville and Liv Morgan.
The newlyweds will be away presumably for their honeymoon, as Jerry Lawler has been confirmed to do commentary on Raw this coming Monday in Graves' place. Expect at least one cringeworthy joke from The King at the married couple's expense.