WWE's John Cena To Star In New Teenage Mutant Ninja Turtles Movie
Big Match John has landed himself a match-up against the TMNT.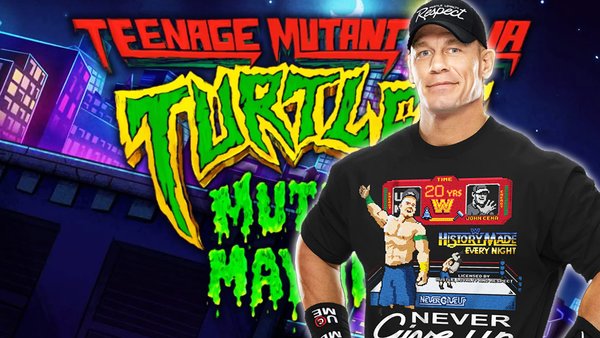 As John Cena's Hollywood star continues to rise, the 16-time WWE World Champion has now landed himself a role in the new Teenage Mutant Ninja Turtles movie.
Titled Teenage Mutant Ninja Turtles: Mutant Mayhem, this computer-animated offering will see Cena provide the voice of the villainous Rocksteady.
John Cena (@johncena) is Rocksteady. #TMNTMovie pic.twitter.com/hekW6frWe5

— TMNT (@TMNTMovie) March 5, 2023
A first animated TMNT film 2007, Mutant Mayhem is intended to be the launching point for a whole new Turtles movie franchise.
TMNT: Mutant Mayhem has Jeff Rowe making his directorial debut, and the feature is being produced by Seth Rogen, Evan Goldberg and James Weaver's Point Grey Pictures. Where Rogan is concerned, the Superbad favourite will also be lending his vocals to Rocksteady's long-time buddy, Bebop.
Featuring character designs inspired by childhood sketches of director Rowe's, Mutant Mayhem will be brought to life by the Cinesite Studios organisation whose work has been seen in the likes of Matilda, Thor: Love & Thunder, and Black Panther: Wakanda Forever. Likewise, PAW Patrol and SpongeBob on the Run's Mikros Animation will be working alongside Cinesite.
Per Paramount Pictures, the official synopsis for Teenage Mutant Ninja Turtles: Mutant Mayhem reads:
"After years of being sheltered from the human world, the Turtles set out to win the hearts of New Yorkers and be accepted as normal teenagers through heroic acts. Their new friend April O'Neil helps them take on a notorious crime syndicate, but they soon get in over their heads when an army of mutants is unleashed upon."
Joining John Cena and Seth Rogen in this picture, there's quite the star-studded cast in terms of both acting talent and the familiar characters who'll be featured in the film.
On that front, the full cast list is:
- Nicolas Cantu as Leonardo
- Shamon Brown Jr. as Michelangelo
- Micah Abbey as Donatello
- Brady Noon as Raphael
- Jackie Chan as Master Splinter
- Ayo Edebiri as April O'Neil
- Ice Cube as Superfly
- Seth Rogen as Bebop
- John Cena as Rocksteady
- Paul Rudd as Mondo Gecko
- Natasia Demetriou as Wingnut
- Rose Byrne as Leatherhead
- Post Malone as Ray Fillet
- Hannibal Buress as Genghis Frog
- Maya Rudolph as Cynthia Utrom
- Giancarlo Esposito as Baxter Stockman
At present, Teenage Mutant Ninja Turtles: Mutant Mayhem is set to hit cinemas on Friday 4 August 2023.
Before that, of course, John Cena is set to make an appearance on tomorrow night's WWE Raw, where it's expected the wheels will fully be put in motion to have Cena take on Austin Theory at WrestleMania 39 this April.
Create Content and Get Paid
---