WWE's Matt Riddle Accused Of Cheating, Drug Use By Ex-Partner
Matt Riddle remains off WWE television and in rehab after failing two drug tests in 2022.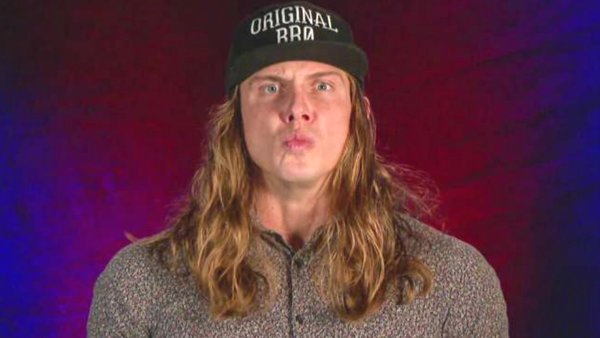 WWE star Matt Riddle has been accused of cheating and drug use by former partner Jordan Maxx, who has effectively confirmed reports of the Raw wrestler heading to rehab.
Bodyslam.net's Cassidy Haynes reported last week that WWE had suspended Riddle for six weeks after failing his second drug test of 2022. While there had been no word on what, exactly, came up in Riddle's results, he was sent to rehab. Marijuana can likely be ruled out, as WWE no longer tests for the substance.
Now, Maxx has alleged infidelity on Riddle's behalf. Responding to a screenshotted Ringside News report on Matt being with adult film star Misha Montana, Jordan tweeted that she and Riddle had been together for six months, that the wrestler had told her "I love you", and that the cheating and rehab stint had put an end to their Christmas and New Year plans:-
Does it make you feel better about yourself to kick people when they're down?

Try to imagine for one second, the man you've spent the last 6 months with, who said "I love you" for the first time 2 months ago, is all of a sudden making out with someone else WHO IS IN YOUR (1/2) https://t.co/sd2RGAbH2s

— Jordan Maxx // Las Vegas 1/2-1/9 (@TheJordanMaxx) December 19, 2022
INDUSTRY, and then, rather than keeping plans for Christmas and NYE, he's going to rehab?

Do you have any idea how confusing and hurtful that is? (2/2)

— Jordan Maxx // Las Vegas 1/2-1/9 (@TheJordanMaxx) December 19, 2022
Continuing, Maxx stated that Riddle had previously told her he had quit drugs, adding that she was disappointed, not angry, that he had gone to rehab.
Riddle and ex-wife Lisa were divorced in March, with Lisa claiming her former spouse had walked out on his family. As highlighted by David Bixenspan, Lisa has been attempting to hold Matt in contempt of court for "ensure that his employer sends directly to the Mother the results of his routine lab testing", as defined in a previous agreement.
WWE has covered for Riddle's absence from television, claiming he currently isn't cleared for competition due to a beatdown from The Bloodline's Solo Sikoa.