WWE's Pat McAfee In Talks With Amazon Over NFL Role
WWE SmackDown announcer in talks over new NFL coverage role?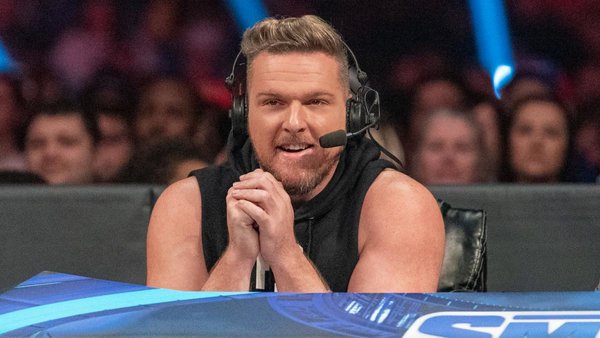 WWE announcer Pat McAfee has reportedly held talks with Amazon regarding a role in the platform's NFL coverage.
This is according to The New York Post's Ryan Glasspiegel, who reports that the two parties have held discussions regarding McAfee potentially contributing to Amazon's Thursday Night Football coverage. Said coverage commences in autumn following an 11-year deal signed in March 2021.
In addition, conversations over the SmackDown commentator's 'The Pat McAfee Show' airing on Amazon Prime have also been held. The show, which is sponsored by FanDuel, currently airs on SiriusXM and YouTube.
McAfee fuelled speculative fires by tweeting the following on Wednesday:-
Hey…

Let's all keep it cool but like.. I'm 1000% UP TO SOMETHING.

?????????? pic.twitter.com/yUBw4QcUg4

— Pat McAfee (@PatMcAfeeShow) April 20, 2022
The former NFL punter has since addressed the rumours on his show, outright acknowledging the siutation before confirming that he is, indeed, up to something (h/t SEScoops):-
"Pretty high altitudes last night that we were soaring in. As I was reading everything on the Internet about what was going on next for our entire company I was like, 'Is that happening? I don't know, who knows something? We are in the middle of conversations with maybe that group of people. Oh, maybe they haven't even heard about this conversation. I wonder if these people that we are talking to just read this as well.' This is a wild 'up to something' season. This has been like multiple years in a row where we've had 'up to something' seasons and this particular season seems to be pretty active right now. I'm trying to figure out the best way to handle it, just the most entertaining way to go about doing this whole thing. With that being said, we are up to something or some things."
How any Amazon/NFL deal would impact McAfee's current WWE role remains to be seen.
The 34-year-old currently calls WWE's leading show, SmackDown, alongside Michael Cole every Friday. WrestleMania 38 saw him dust off his competitive side to defeat Theory in a well-received match, followed by a less well-received contest with Vince McMahon, which he promptly lost.