WWE's Pat Patterson Has Died
WWE's first Intercontinental Champion and long-time producer was 79.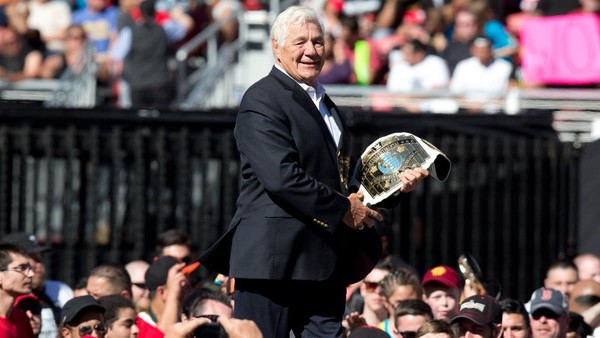 WhatCulture.com is saddened to learn that Pat Patterson, WWE's inaugural Intercontinental Champion and long-term creative consultant, has died.
Montreal sports radio host Tony Marinaro announced, via Twitter, that he'd received a text letting him know Patterson had passed away earlier this morning in a Miami hospital.
Patterson had been battling cancer. He was 79.
Born Pierre Clermont on 19 January 1941 into an impoverished, Francophonic family in the Montreal arrondissement of Ville-Marie, Patterson first entered the wrestling business at the age of 14. A former altar boy, Patterson gave up a previous ambition of being a priest, as he instead sought adventure in life. He certainly found it.
Throughout his early career, a man later known behind the scenes for his avuncular nature cut an improbable figure as "Killer" Pat Patterson in his native Montreal. Such was the fashion of the time, Patterson's inability to speak English no doubt added to his heel aura - but it didn't prevent him finding work south of the border.
It was in Big Time Wrestling (Boston) where Patterson first found work in the United States - and also where he met Louie Dondero, his life partner. Much as Patterson would later help define WWE, he played a huge part in shaping the industry's sexual inclusivity, when he became amongst the first wrestlers to come out as gay in the early '70s.
Throughout the '60s and '70s, Patterson toured the major stomping grounds of the North American territories, posting spells in Pacific Northwest, Roy Shire's Big Time Wrestling, the Grahams' Champion Wrestling from Florida and Verne Gagne's AWA. He also made a brief foray to NJPW, before returning to the States as a heel for NWA breakaways, the World Wrestling Federation.
Patterson biggest in-ring contribution in Stamford was as the inaugural holder of the Intercontinental Championship, a secondary title created through the unification of Ted DiBiase's North American crown and Patterson's entirely fictitious South American equivalent. Famously, Patterson scooped the honour following a tournament in Rio de Janeiro - which never actually happened.
Though Patterson's name will forever be in the history books for his bogus title win, it was his work behind the scenes which would have the biggest impact on WWE's story. After hanging up the boots, the Canadian transitioned into a commentary role, before picking up the reins backstage. His industry acumen saw him swiftly rise to become chairman Vince McMahon's most trusted lieutenant, the legacy of which persists today in the annual Royal Rumble - Patterson's invention.
McMahon's dependence on Patterson's nous guaranteed him a job for life - though he was briefly let go from the company in 1992 following sexual harassment allegations by former announcer Murray Hodgson. The charges were ultimately dropped, and Patterson was immediately welcomed back into the fold.
For all Patterson's work behind the scenes, and the lengthy in-ring career which preceded it, fans of a certain vintage will likely best remember him for his role as one of Vince McMahon's 'Stooges' at the height of the Monday Night Wars. He and fellow right-hand man Gerald Brisco were regularly paraded as superannuated comedy fodder, usually the butt of in-jokes at their boss' expense. The skits reached their climax - or rather, nadir - with an interminable 'Evening Gown' contest between the pair at King of the Ring 2000. Such was the nature of the era, it ended with Mike 'Crash Holly' Lockwood pinning Patterson to become the promotion's hardcore champion.
Last year, Patterson made a cameo to celebrate Raw Reunion, claiming the modern day equivalent of the Hardcore title, the 24/7 Championship. At 78, he became the oldest champion in WWE's history.
Though Patterson retired from full-time duties with the company in 2004, he remained a creative consultant for close friend Vince McMahon until his death.
WhatCulture.com would like to send our heartfelt condolences to Patterson's family and friends.
Create Content and Get Paid
---