WWE's Seth Rollins Shoots On His Relationship With AEW's Jon Moxley
The Visionary comments on his old Shield running buddy.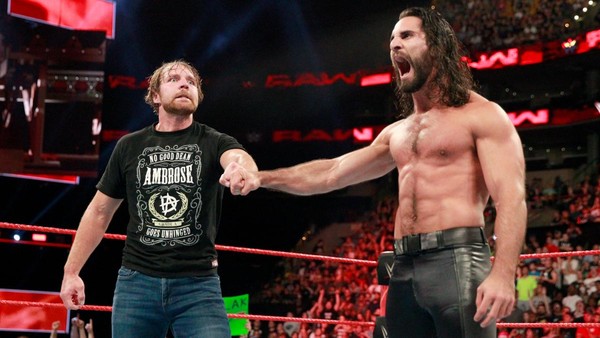 While he and Jon Moxley may no longer be running the roads alongside one another, Seth Rollins has revealed how he still does his best to keep up with his former Shield buddy.
During a recent interview with BT Sport's Ariel Helwani (via SEScoops), the Visionary detailed how he still tries to check in with Mox when he can.
"I don't talk to him as much, obviously. We have opposite schedules and different stuff, but our baby girls are close to the same age. And he's not much of a texter, like he's an in-person cat. He's not much of a texter or a phone guy, he's an in-person dude. So, if there's ever a chance, when we were in Cincinnati last time I was there I popped in the house to say 'Hi' and all that, checked in on him. I do that periodically just to see how he's doing and stuff, but I'm close with Renee [Paquette], so we are always exchanging baby pictures and what is new with the kids."
On how Moxley is doing in AEW, Rollins had nothing but praise for the current AEW World Champion.
"Yeah, never any animosity. He's great, he's at the top of his game doing his thing over in AEW. So, nothing but the best. I've never, between the three of us [Rollins, Moxley, Roman Reigns], and I can't speak for any of them, but they were closer than I was with either of those guys as friends off camera. So I assume that they are still chill. I've never heard anything to the contrary, but yeah, I've always had a great relationship with those guys."
It's fast approaching ten years since the Shield made their explosive WWE debut, with the trio arriving to assist CM Punk in retaining the WWE Championship at Survivor Series 2012.
In the years since, all three of the Shield have gone on to hold the biggest prizes in WWE, and obviously Dean Ambrose has reinvented himself in AEW under his old Jon Moxley moniker since departing the market leader in April 2019.
Prior to letting his WWE deal expire, Mox had become hugely frustrated with the direction his character was taking - with those final months seeing Ambrose become a heel who complained about fans' body odour, before one final, ham-fisted Shield reunion was put together once it became clear the Lunatic Fringe was exiting the company.
Create Content and Get Paid
---