38 WTF Moments From WWE RAW (Jan 18)
Brock made Bray look STRONG!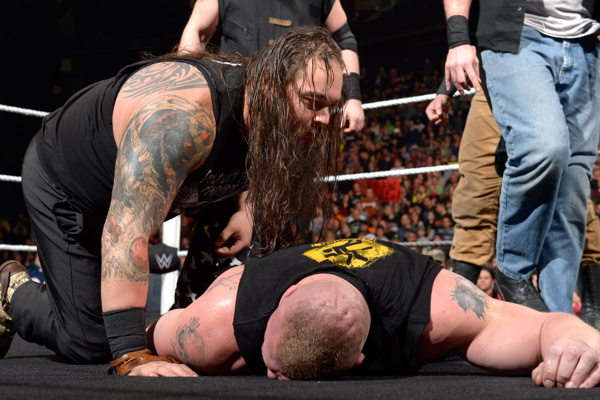 It seemed that this week's RAW was going to be centred around Brock Lesnar appearing on Chris Jericho's highlight reel. Both men have already confirmed their entry into Sunday's Royal Rumble with the intention of winning the damn thing. There's little doubting that a hard-hitting Y2J question would infuriate The Beast and result in a one-way ticket to Suplex City. On top of that, we would undoubtedly have countless segments of Roman Reigns - who missed a house show this past Sunday - playing the role of Stone Cold Steve Austin-lite and annoying The Authority. This would, in turn, undoubtedly result in The Big Dog being handed the number one slot in the Rumble. Yawn. We also had the prospect of the Divas Revolution moving up a couple of gears as Charlotte would answer the challenge made by Becky Lynch, undoubtedly coupled with some tomfoolery of the dirtiest proportions by daddy Ric. It would also be interesting to see how WWE would deal with their secondary titles over the course of the evening. Kalisto, rather farcically, lost the United States title roughly 24 hours after winning it on last week's show, while Kevin Owens and Dean Ambrose would need to put in some considerable leg work to hype their Last Man Standing Match. As always, there were those moments that left us all screaming WTF! at our television screens. Here's 38 of them...
38. No Ron? No Bobo?
RAW shared a day with Martin Luther King this year, so as you would expect, a lengthy tribute to the great man was paid to open the show. However, am I wrong in thinking that WWE should have paid tribute to a couple of their own industry's trailblazers in Ron Simmons and Bobo Brazil? Simmons, as you are all probably aware, is recognised by the company as the first black World Heavyweight Champion in wrestling history. Ron won the WCW WHC in August of 1992. Bobo Brazil is credited with breaking down barriers of racial segregation in professional wrestling, paving the way for the likes of Ron to make it to the top. Don't get me wrong, it was a lovely tribute. But while WWE showed countless individuals from other realms of entertainment and politics that broke new ground, it seems that they simply overlooked a couple of their own.