Xavier Woods Reveals First-Time Ever Moment He Saw Backstage At WWE Royal Rumble 2021
Something that happened at WWE's Royal Rumble 2021 warmed Xavier Woods' heart.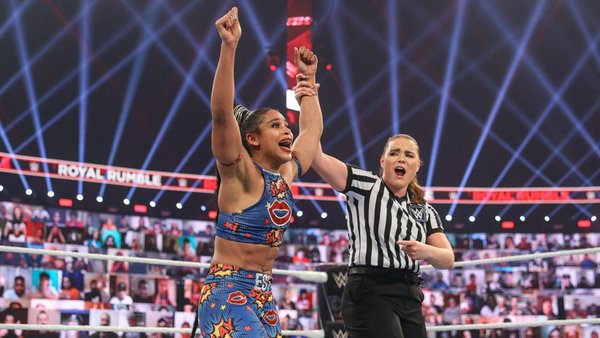 Bianca Belair's Royal Rumble triumph was a popular decision amongst fans, but they weren't the only ones who enjoyed it.
Xavier Woods revealed on New Day's 'Feel The Power' podcast that the entire WWE locker room backstage popped when Belair got the win. That, according to Woods, is something that has never really happened in the 10 years he's been part of the company.
At least, Xavier has never seen it happen or heard about such a moment afterwards.
He said he "made himself" seek out Belair after the pay-per-view was finished so he could congratulate her on the win. Woods also wanted to clue her in on this first-ever occasion and let Belair know how much she's respected and loved behind the scenes by her peers.
That must've meant to the world to Bianca.
Xavier did say that he's seen people cheer from Gorilla before; it's also not uncommon for WWE's roster to wait behind the curtain and applaud following a great match. However, the "genuine arms up in the air screaming" he was part of at the Rumble is new to him.
It warmed his heart.
Create Content and Get Paid
---