Zahra Schreiber Debuts New WWE Gimmick, Deletes Nazi Instagrams
NXT Diva and Seth Rollins' girlfriend trends worldwide amidst social media controversy...
At the turn of the year, Zahra Schreiber was hitting headlines for all the wrong reasons, caught amidst the controversy surrounding leaked private pictures of Seth Rollins. At that point, Rollins was engaged to a different woman, which only made the situation messier. Accidentally tweeting a nude picture of the NXT Diva, Rollins' then-partner responded by leaking an intimate picture of the WWE World Heavyweight Champion. This week, Schreiber is in the news again. At NXT live events this past weekend, the Diva debuted a new character; aligned with Solomon Crowe, she is now fulfilling the role of his little sister in storylines. Acting as the wrestler's valet, this is a fresh role for Schreiber, who is yet to be given a character name for the onscreen association. That's not all that's been happening with the controversial WWE female. Past social media posts can often be used as ammunition against celebrities, as Schreiber is currently finding out. A few Instagram posts of hers from 2012 have been re-aired by fans online, including one that depicts the swastika symbol most commonly tied to the Nazi party.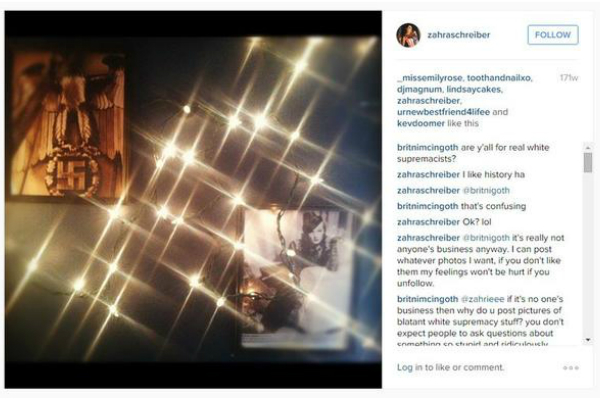 The resurfacing of such social media posts has helped make Zahra Schreiber a worldwide trend. As shown in the image of the controversial Instagram entry, the WWE Diva attempted to defend her right to post the image, simply offering, "I like history". In addition, she also hit out at fans criticising the picture by saying they should simply unfollow her posts if they found them offensive. WWE won't be happy that controversy seems to follow Zahra Schreiber around. Her new gimmick alongside Solomon Crowe is clearly an attempt from the company to give her a fresh start, but it seems fans simply can't let her social media history be ignored. The polarising Instagram posts have since been deleted from her account, but not before they helped kick up an online storm, which Schreiber surely doesn't want.
Create Content and Get Paid
---