10 Actors Who Didn't Want To Be Credited For Movie Roles
The definitive list of anonymous demons, pirates and an R-rated cartoon femme fatale...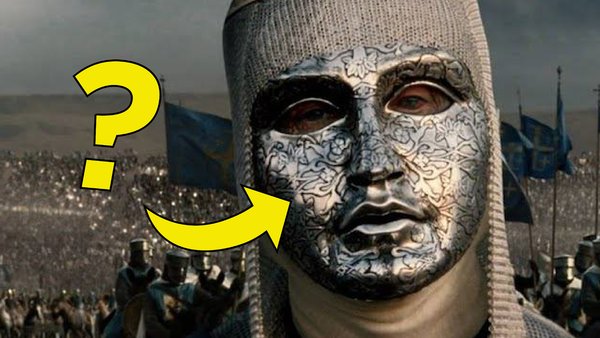 Anonymity can be a useful tool for many - superheroes, whistleblowers, Twilight fans - and yet for actors, keeping your identity a secret would seem to be self defeating.
So, who exactly would prefer to remain unknown and why? Star power can lend a real weight to a production but it can also be a major source of plot spoilers. If a performer appears in all the publicity and not on the screen for the first two acts, it isn't a stretch to predict who's going to shoot up in act three.
However, remaining incognito can also be indicative of a lack of confidence in the project - James Earl Jones took no credit for the first Star Wars film but by the time Empire hit the screens, his name was very much attached.
Conversely, many thespians take gigs as favours to industry friends (so read on to find out how Gene Hackman found his comedy feet whilst playing tennis with another famous Gene.)
With a list containing some of Hollywood's most well known actors, extreme profanity from Tom Cruise, even worse profanity from Linda Blair and some good sports who were willing to forgo their vanity for the love of suspense, here are ten of the best anonymous roles in film.
10. Kathleen Turner In Who Framed Roger Rabbit
Jessica Rabbit caused a bit of a commotion in 1988.
If you're not familiar with Who Framed Roger Rabbit, it's a simple pitch. Mixing live action and WB style cartoon animation, it's a classic film noir set-up; Roger Rabbit is framed for murder as Bob Hoskins' world weary private investigator Eddie Valiant learns that Jessica Rabbit, Roger's wife, has been playing patty cake (literally) with another 'toon.
The character was based on classic Hollywood femme fatales, including Rita Hayworth, Veronica Lake and Lauren Bacall and due to her exaggerated curves, had many older kids asking their parents why Jessica Rabbit made them 'feel a bit funny.' Legend had it that in the original VHS release she wasn't wearing any underwear either but that's another list entirely.
Voiced by the superb Kathleen Turner, the character perfectly captures the (cartoon) seductress archetype and to this day is considered risqué to say the least, so why was Turner's brilliant performance the only thing about Mrs. Rabbit that wasn't on full display?
Turner was nine months pregnant at the time of the gig and she felt that making a song and a dance wasn't worth making a song and a dance about. With four other movies in tow and a good relationship with director Bob Zemickis, Turner didn't feel the need to have her name attached to the project.