10 Awesome Superhero Film Moments For When Marvel Owns Everything
Two words everybody: Civil War.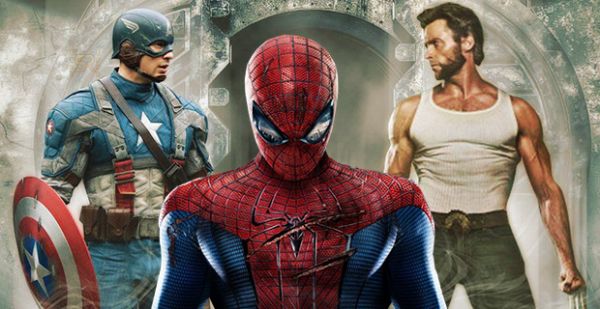 With three separate movie studios focused on building their own individual cinematic fiefdoms in Marvel Studios (the Avengers), Sony (The Amazing Spider-Man), and 20th Century Fox (X-Men and Fantastic Four), the odds of ever getting these Hollywood behemoths to come together in order to produce a movie featuring all of these iconic characters has long been a pipedream. Except the tide may be turning. Moviegoers were surprised to see a
clip for X-Men: Days of Future Past at the end of The Amazing Spider-Man 2
. It certainly wasn€™t on the level of some of the mid and end credit teasers that Marvel Studios has been making famous since releasing Iron Man in 2008, but it is the first real sign in years that there has been a potential thaw in the icy political dynamics that have continued to keep all these billion dollar properties separate. If The Amazing Spider-Man 2/X-Men: Days of Future Past connection is indeed a precursor to future cross-promotion, the sky is the limit for Marvel and Hollywood. The unencumbered freedom to mix and match heroes and villains from different series' and €œuniverses€ has led to some of Marvel€™s greatest and most popular stories of all time. Giving any of these 10 comic book moments the Hollywood treatment (with the right batch of creators behind it, naturally), would provide these studios with a license to print money.
10. Spider-Man Vs. Juggernaut
During the acclaimed Roger Stern/John Romita Jr. run on Amazing Spider-Man, Spidey tangoed for the first time with the Juggernaut €" a villain who had long been associated with the mutant X-Men universe (and a property of the Fox film universe). €œNothing Can Stop the Juggernaut€ is considered one of the greatest Spider-Man stories of all-time, as Spidey pulls out all the stops to take him down. Throughout the story, Spider-Man is depicted as being out of his weight class against the €œunstoppable€ behemoth, throwing every obstacle he can think of in the Juggernaut€™s path €" even slamming him with a tanker truck in one scene €" all to no avail. Spider-Man eventually overcomes the Juggernaut through guile and his never-say-die spirit. The battle is considered a true highlight for the Marvel Universe, and would make a far more compelling adaptation for a future Spider-Man movie than some of the Spidey-specific rogues (Lizard, Electro, Rhino) used in Marc Webb€™s The Amazing Spider-Man franchise. That's because while featuring all of the customary explosions and action sequences befitting a summer blockbuster, Stern's riveting script provides readers with a deeper understanding of who these characters are and why they do the things they do. Plus, after Juggernaut's less-than-stellar debut in 2006's X-Men: The Last Stand, a "Nothing Can Stop the Juggernaut" adaptation would give the character a badly needed Hollywood facelift.