10 Best Characters In Guy Ritchie Movies
9. Tom - Lock, Stock And Two Smoking Barrels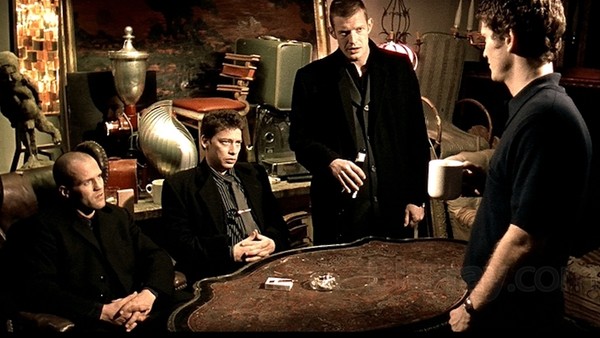 Part of the film's main group of protagonists, Tom (Jason Flemyng) finds himself owing £500,000 to a hardened mob boss after his friend Eddie (Nick Moran) loses a game of rigged cards. Being the owner of a shop that sells not-so-legal goods, Tom and his friends decide to rob the flat next door to his in order to raise the funds needed to keep his head off the chopping block.

In traditional Guy Ritchie fashion, this plan doesn't exactly go off without a hitch, as many different parties become involved not only in the money, but in a pair of antique shotguns that are worth nearly as much. At the centre of it all, Tom and his friends have to fend off the gang they stole the money from, as well as the intimidating hitman that the mob boss has hired to take care of the group.
Jason Flemyng excels here in his first major film role, as he brings an amusing level of cynicism and wit to the character. He has a hilarious chemistry with Nick Moran, Dexter Fletcher and Jason Statham, which makes for an entertaining dynamic between the main group of protagonists. Tom's dry sense of humour is best exhibited in the "sex toy advert" speech that he gives when trying to brainstorm ways of raising £500,000 with his friends.
Jason Flemyng would not only give a brilliant performance in this film, but he would later return in Snatch (2000), Guy Ritchie's next film that had many similar cast members and story beats to Lock, Stock and Two Smoking Barrels. The different interactions between characters is what makes Ritchie's first cinematic offering so entertaining, and Jason Flemyng's performance definitely contributes to this.