10 Best William Shakespeare Film Adaptations
9. Forbidden Planet (Fred M. Wilcox, 1956)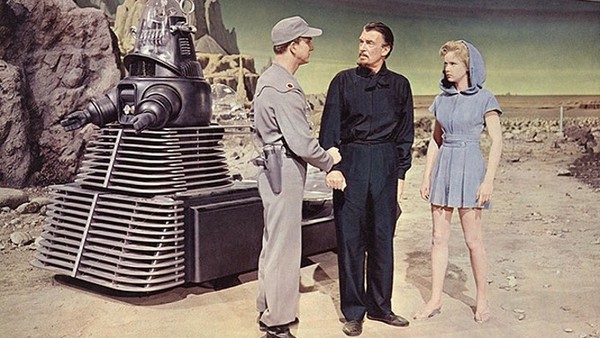 Again, I'm really bending the rules here, but let's be honest: no list of the best Shakespeare films would be complete without Forbidden Planet. The film which gave us Robbie the Robot (later of Lost In Space) is also the best cinematic adaptation of The Tempest, beating out Derek Jarman's version from the 1970s, Peter Greenaway's unfortunately tedious Prospero's Books and the recent version starring Helen Mirren.
The Tempest is the last play that Shakespeare wrote alone, collaborating on several further plays until his death in 1616. Set on a remote island, it follows the story of Prospero, the rightful Duke of Milan, who conjures up a storm to shipwreck his usurper brother Antonio and restore his daughter Miranda to her proper title. Containing elements of romance and tragicomedy, it has often been seen as Shakespeare's official farewell to the stage, epitomised in Prospero's final monologue.
While Forbidden Planet lacks the rich language that makes Shakespeare so distinctive, it is in many other aspects a very faithful adaptation. Boasting brilliant production values for its time and a ground-breaking electronic score, the film ties the plot and character arcs of Shakespeare's play to an interesting exploration of the psychoanalysis of Carl Jung. It's also an opportunity to watch Leslie Nielsen when he was making his way as a straight actor - and he's as convincing here in dramatic form as he would later be in the Naked Gun series.