10 Horror Movie Props You Didn't Know Were Reused
9. Ghostbusters' P.K.E. Meter Was Used In They Live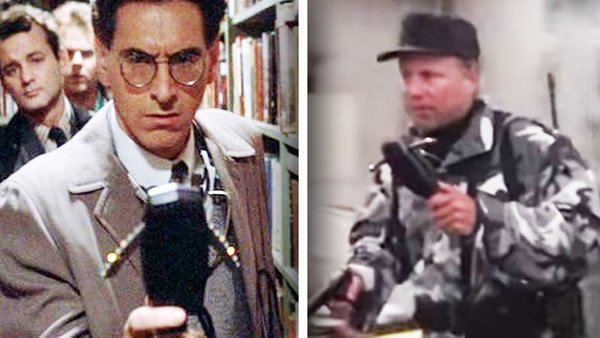 Given how Egon Spengler is the crazed genius of the Ghostbusters team, it's no surprise to see that one of his creations has been put to use in a couple of other movies.
Designed by Harold Ramis' Spengler in order to track things that go bump in the night, the Psycho-Kinetic Energy meter can be spotted in John Carpenter's iconic They Live. In the Horror Master's 1988 picture, the P.K.E. meter is used by the military as a way to detect alien lifeforms.
Of course, They Live was headlined by the legendary 'Rowdy' Roddy Piper, and the P.K.E. would later turn up in yet another wrestler-driven movie in 1991.
Not just was Spengler's swanky Psycho-Kinetic Energy device good enough for the military in They Live to use, but the P.K.E. meter was also featured in '91's Hulk Hogan-fronted Suburban Commando; a movie that also had an appearance from the Undertaker. There, the device was used to track down a freeze laser.
Hunting ghosts, pinpointing aliens, or tracking weaponry, the P.K.E. is seemingly quite the versatile piece of kit.