10 Times Borat Went Too Far
Even the number four journalist in all of Kazakhstan can sometimes take it too far...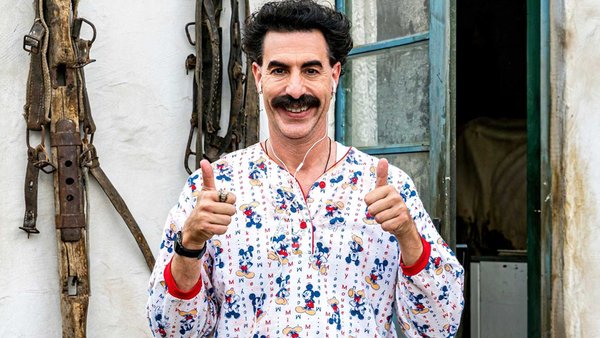 Debuting in his current form on Da Ali G Show back in 2000, Borat Sagdiyev quickly became the British nation's favourite Kazakh reporter on an eternally fruitless quest to understand their customs. Further fame came from across the pond when Da Ali G Show went to America for its third season and, in 2006, when Borat released his first self-titled feature film.
While he is a popular figure around the world, Borat and his creator Sacha Baron Cohen have been dogged by controversy over the years. From sprinting naked in public to catching leading politicians in compromising positions, audiences have either reacted with hysterics to his antics or with outrage. Even the Kazakhstan government was initially hostile to Borat and the way that he portrayed their country, threatening to sue Cohen and doing their very best to distance themselves from his fictional creation. They have softened in recent years, however, even using Borat's catchphrase, "Very nice!" as a slogan for a recent tourism campaign.
But for those who haven't come around on Mr. Sagdiyev, what actions of his have gotten them the hottest under the collar?
10. 10. Cambridge (The Ali G Show)
The prestigious Cambridge University is Sacha Baron Cohen's alma mater, so where better a place for Borat to cause mischief than within those hallowed halls?
As part of his 'Guide to Britain' segment on Da Ali G Show, Borat took a trip to the ancient institution to see where "most famous men in world study". He, of course, got up to his usual antics with both staff and students at this unmatched centre of education.
With one Dr. Ian Tuson, he asked why women were allowed to attend the university and, in true Borat fashion, managed to get the good doctor to expose his own ugly prejudices. Apparently, women do not have "creative brains".
He caused further awkwardness by asking a Cambridge ball attendee when the prostitutes were arriving. The segment is also noteworthy for including a rare occasion in which an interviewee refuses to politely go along with one of Borat's lewd lines of questioning and outright tells him that he is being offensive. One for the history books.