12 Best New TV & Film Podcasts You Need To Listen To
11. The Good Place: The Podcast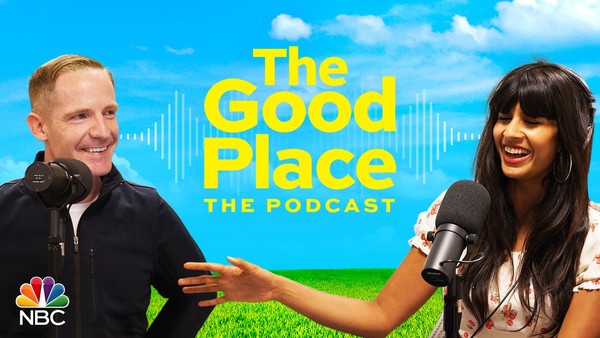 Holy motherforking shirtballs!
The Good Place: The Podcast is one of the first of its kind. It is an official podcast for the TV show The Good Place and is hosted by Marc Evan Jackson who plays the head Demon Shawn in the show.
Like others on this list, this podcast has a rotating slate of co-hosts and special guests, including actors, writers, producers and in each episode the host explores all the events on and off-screen, such as the ethical debates brought up and stories from behind the scenes.
What is unique about this show is that episode would be released alongside episodes of the TV show, meaning the podcast acted as an official after-show for the TV series.
Even though the TV show has come to an end, the podcast lives on with bonus episodes. One of which was a Parks and Rec special with cast and crew from that show guest-starring on the pod.
The Good Place is available on Netflix. If you are looking to start or rewatch the show, this podcast is a perfect partner.