15 Most Epic Movie Moments Of 2019
14. The Helicopter Scene - Fast & Furious Presents: Hobbs & Shaw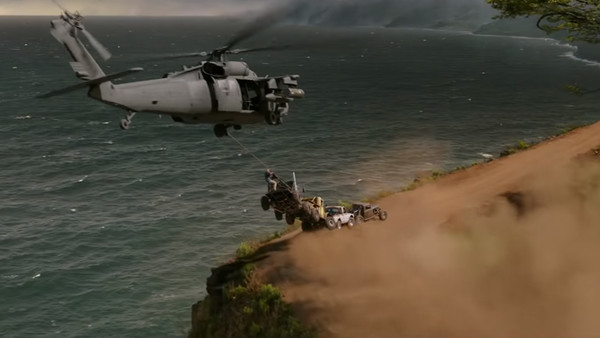 Let's call Hobbs and Shaw exactly what it is. A ridiculous CGI-fest, where the laws of physics don't tend to apply when convenient for the plot or a crazy action sequence. However, the movie leans into this to make it even more absurd than it may have been otherwise, which makes it just great fun to watch.
As with many of the movies starring Dwayne Johnson, the first Fast and Furious spin-off offers a huge amount of macho over-the-top action. The epitome of this is the scene in which the titular duo try to stop Idris Elba's character from escaping.
With limited resources on hand, Jason Statham and Rocky's characters channel their inner MacGyver, making use of their truck and a heavy duty chain to bring down Brixton's chopper. Yet, it turns out just one truck isn't enough to hold a helicopter down. Who knew?!
Before long, Hobbs' Samoan family come to the protagonists' aid, linking up more trucks in a scene reminiscent of the barrel of monkeys toys from Toy Story. After a tug of war between staying on the ground or taking to the sky, both the chopper and the original truck go down, with a few rocket launchers and car crashes thrown in for good measure, and of course, the hero shot of Johnson's inhuman muscles. A cinematic masterpiece? No. A whole lot of big, dumb fun? Absolutely.
Scott Banner
This standard nerd combines the looks of Shaggy with the brains of Scooby, has an unhealthy obsession with the Marvel Cinematic Universe, and is a firm believer that Alter Bridge are the greatest band in the world.
See more from Scott