20 Easter Eggs In Harry Potter Films You Didn't Notice
The films jam-packed with more magical trivia than you can shake a wand at!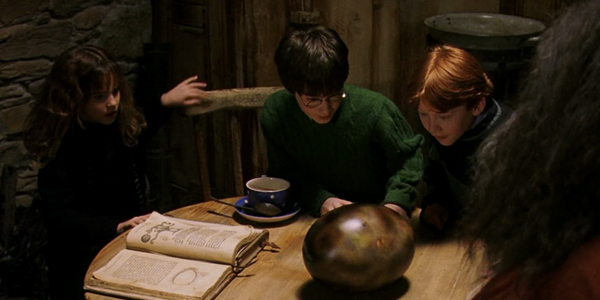 Warner Bros.It may seem like only yesterday that we were witnessing that intense showdown between Harry Potter and his arch-nemesis Voldemort but the last film in the epic wizarding franchise actually hit cinemas three years ago. Becoming used to a cinematic-landscape not populated by a steady stream of Harry Potter releases has been a difficult task.
Grateful Potter-fanatics were recently given another slice of the life of the Boy Who Lived when the author of the series, J.K. Rowling, released a short story about the world-famous wizard. The story €" released over the Pottermore fansite €" revisits a thirty-something year old Harry with greying hair as he attends the final of the Quidditch World Cup final. Presumably this was intended to tie in with the impending final of the FIFA World Cup in Brazil, though we have little doubt that fans of the series are far more concerned about returning to the world of Harry Potter; albeit for a far shorter time than we€™re used to.
Fans of the books may have been given their fix of Potter-goodness but those more interested in the movies have been left wanting €" the short story may act as a nice update about how Harry is doing but we can€™t imagine we€™ll be seeing a film adaptation of it anytime soon. Never fear though €" WhatCulture.com€™s comprehensive list of the coolest, most magical Easter Eggs in the long running series of films gives you the perfect excuse to brush the dust off your complete collection of the Harry Potter DVDs and re-watch them (again). Rowling€™s writing style is always littered with Easter Eggs, hidden references and winks to the audience and many of these translated over to the films.
You need use no Aparecium charm to reveal these Easter Eggs €" we€™ve trawled through all eight films and found the twenty coolest Easter Eggs of the many hidden within the walls of Hogwarts and the magical lands beyond.