20 James Bond References You Might Have Missed In Die Another Day
"This will be your 20th, I believe." 20 overlooked references in Die Another Day.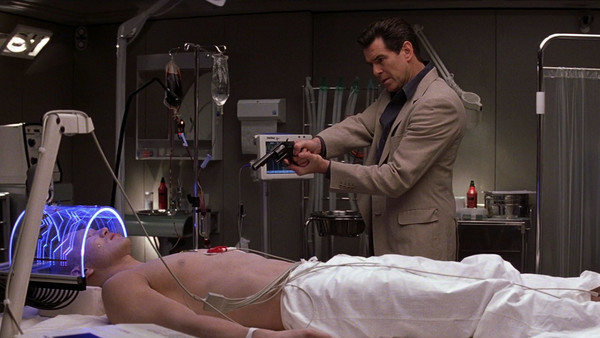 For better or worse, Pierce Brosnan's last cinematic adventure as James Bond, Double-0 Seven - 2002's Die Another Day - is a celebration of everything to do with the character and his distinctive universe.
Certainly, the inclusion of invisible Aston Martins, diamond-studded henchmen, and frankly unbelievable plotting did not help this film to become an instant classic and it is both loved and despised in equal measures, but there is no denying that it is a memorable outing.
To commemorate what was then the 40th anniversary of Eon Productions's James Bond franchise, the film is filled with adoring references to the past, including in Ian Fleming's original Bond novels.
For example, Halle Berry's Giacinta "Jinx" Johnson emerges from the ocean in Havana in almost the exact same style as Ursula Andress's Honey Ryder in Dr. No (1962); Gustav Graves's glittering ice palace is similar in design to Karl Stromberg's submersible base, Atlantis in The Spy Who Loved Me (1977); the jet pack from Thunderball (1965) makes a memorable cameo, and the ejector seat in Bond's Aston Martin V12 Vanquish is a direct reference to Goldfinger (1964).
However, Brosnan's last outing as Britain's greatest secret agent is filled with so many more references to classic James Bond lore that can easily go ignored.
Here are 20 nods to Bond's past that you might have overlooked.
20. Noises On The Frigate
After 14 months of torture in North Korea, Pierce Brosnan's James Bond is exchanged for a prisoner being held by the Western authorities, Rick Yune's Zao, who had attacked a summit between North Korea and China.
Although Double-0 Seven believes that he will be welcomed with open arms, he is imprisoned by his allies and considered likely to have haemorrhaged vital information to the North Koreans. Judi Dench's M coldly disavows Bond, claiming "You're no use to anyone anymore". Knowing that he did not divulge any information to his captors, the dishevelled Bond (questionably) manages to slow his heart rate, leading his medical team to believe that he is going into cardiac arrest.
Of course, it is a ploy that Bond has devised to assist his escape and, after subduing the crash cart team, he escapes from his cell onto the deck of a British naval frigate in Hong Kong Harbour.
As he escapes, the audience hears strange noises that somehow rise above the sound of the alarms and sirens warning the crew of Bond's escape. Returning to the gun barrel sequence of the first official James Bond film, Dr. No, audiences can hear the exact same noises, which are meant to be the sound of the 'toppling' radio beam used by Dr. Julius No (Joseph Wiseman) to disrupt the Americans' rocket activities at Cape Canaveral.