20 Star Trek Actors Who Died In 2021
Here we remember twenty of the Star Trek actors who have passed away in 2021.
Writing these lists is never easy, though there is always something cathartic about reading about the careers that these fabulous performers had. From acting dynasties and serial bit-players, every name on this list has been many sides of the business that is show. More than a few have appeared behind the camera as well, adding the wealth of talent.
This list contains examples of pure Hollywood royalty. There are few decades in the industry that haven't been touched by the talent that appeared in Star Trek, be it leading roles, or cameos and appearances as extras. There are few who aren't recognisable, even though their Star Trek stints may have been brief.
Less important about these names are the causes of death, bar a couple of exceptions here. What is important is to remember the gifts that each person brought to the audiences that watched them, sometimes week in and week out, while other times it may have been a rare and special treat to get to enjoy them. Some of these names lived a longer life than this writer could hope to enjoy, while some are gone far too soon.
In either case, let's remember them all for their contributions to art.
20. Joanne Linville - Romulan Commander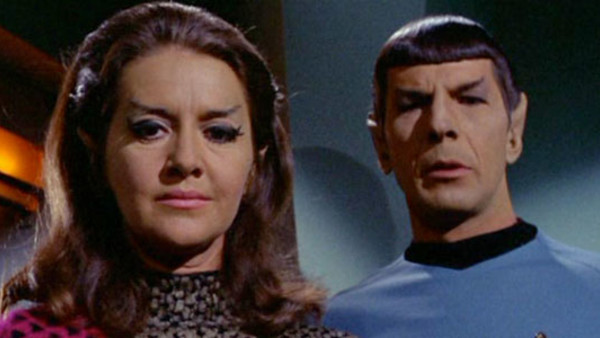 Linville appeared in the Original Series episode The Enterprise Incident. She was the first female Romulan shown on-screen, commanding the fleet that intercepts the Enterprise after it violates the Neutral Zone. Her performance with Leonard Nimoy here gained her recognition with Trekkies for decades.
Before beginning acting, she worked as an oral hygienist assistant, going on to study with Stella Adler, all while dancing to pay her tuition. She would act in many television credits, moving into film as well. She appeared in the 1976 film A Star Is Born, with her last movie credit coming in 2001. There, she played the gossip columnist Hedda Hopper in the biopic James Dean.
She retired from acting in the '80s to concentrate on teaching. She taught the course The Power of Language at the Stella Adler Academy of Acting & Theatre in Los Angeles. Here, she taught Mark Ruffalo.
She returned to Star Trek in audio drama Starship Excelsior, where she reprised her original role. Her daughter, Amy, portrayed the same character in the two-part finale of Star Trek Continues.
Linville died on June 20, 2021, at 93 years of age.