20 Things You Didn't Know About Star Trek II: The Wrath Of Khan (1982)
19. The Movie Was Budgeted At 400% Less Than Its Predecessor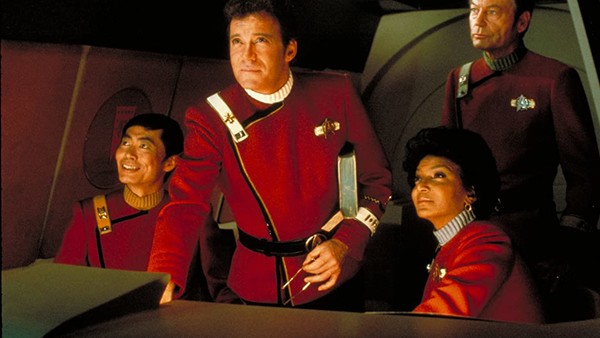 On March 28, 1978, after a series of false starts and cancelled projects, Paramount Pictures officially announced Star Trek—The Motion Picture (1979) with a lavish press conference. The production would be equally grand, with Academy Award-winning director Robert Wise at the helm and a budget of $15 million. Star Wars (1977) had been made for $11.3 million, after costs escalated from an original budget of $8 million.
$15 million, however, turned out to be wildly optimistic. Principal photography went months over schedule and post-production was even more chaotic. By the time the film was released, the Los Angeles Times was reporting the film cost "far above the $42 million mark" and a 1990 memo from producer Ralph Winter indicates the budget was at least $44 million.
The first Star Trek film made money in theaters (Variety reported that rentals, the studio's share of the box office, were $56 million), but Paramount was not eager to repeat the experience. For the sequel, Gene Roddenberry was pushed out as producer, and Harve Bennett was brought onboard to keep the budget in check.
The studio gave Bennett $11 million, 400% less than the final budget for Star Trek—The Motion Picture. At the end of the day, Star Trek II cost $13 million, a little over budget, but nowhere near the excesses of its predecessor (of course, this was only possible because of the plethora of reused sets, props, costumes, models, visual effects, and more). Bennett stayed on to write and produce three more Star Trek movies, and although the costs escalated with each sequel, none of the movies he oversaw went significantly over their approved budgets.