20 Things You Didn't Know About Star Trek II: The Wrath Of Khan (1982)
15. It Took A While To Settle On A Title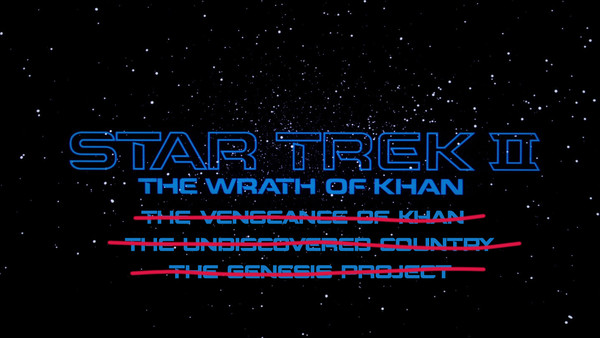 While it was being written, the Star Trek sequel had a number of working titles. These included "War of the Generations," "The Omega System," "The Genesis Project," "Worlds That Never Were," "The New Star Trek," and "The New Frontier."
By the time filming was underway, however, the movie was known as "The Undiscovered Country." This was Nicholas Meyer's preferred title, and when he found out Paramount was planning to release the movie as "The Vengeance of Khan," he was livid. In a March 3, 1982 memo to Paramount executive Frank Mancusco, Meyer wrote that the new title sounded like "a shilling shocker aimed at 12 year olds" and observed that it was a deliberate attempt to "imitate the title of George Lucas's latest film" (a reference to "Revenge of the Jedi," later changed to "Return of the Jedi").
Harve Bennett also disliked the studio's new title, and on March 10, 1982, he sent a memo to Michael Eisner with several alternatives he had brainstormed with Nicholas Meyer. These titles included "The Final Frontier," "Escape From Eden," "A Matter Of Death And Life," "The Genesis War," and "Baptism Of Fire."
Meyer and Bennet's pleas were ignored, however, and on March 12, 1982, a press release went out which said, in part:
STAR TREK: THE VENGEANCE OF KHAN will be the title of the second motion picture episode relating the astral adventures of the Starship U.S.S. Enterprise and her crew which Paramount Pictures' Motion Picture Division will be releasing nationally on June 4th, 1982, it was announced today by Frank G. Mancusco, President, Paramount Motion Picture Distribution.
Just a month later, however, the executives at Paramount changed their minds again—perhaps leery of causing audience confusion with the forthcoming Star Wars sequel—settling for the now familiar Star Trek: The Wrath of Khan. Today the film is known as Star Trek II: The Wrath of Khan, but it's worth noting that 70mm prints of the movie and some promotional tie-ins, including the official novelization, did not include the roman numerals.
One month before the film was released, Meyer was given the opportunity to write liner notes for the soundtrack album release of James Horner's score. He used the liner notes to praise Horner's music, but he also commented on the studio-mandated title change:
My only caveat is the title, which is misleading, since it was appended to the picture in place of our own by Paramount executives who hadn't seen the film they proposed to re-christen. Suffice it to say, as far as thematic intentions, the title on our scripts before and throughout shooting was: STAR TREK II: THE UNDISCOVERED COUNTRY.
Meyer's agreement was that his liner notes could be edited for punctuation, but could not be cut for any other reason. Although Horner's score has been released multiple times and on multiple formats, Nicholas Meyer's original liner notes have never been used.