20 Things You Didn't Know About Star Trek II: The Wrath Of Khan (1982)
14. The Movie Was Initially Conceived As A Movie-Of-The-Week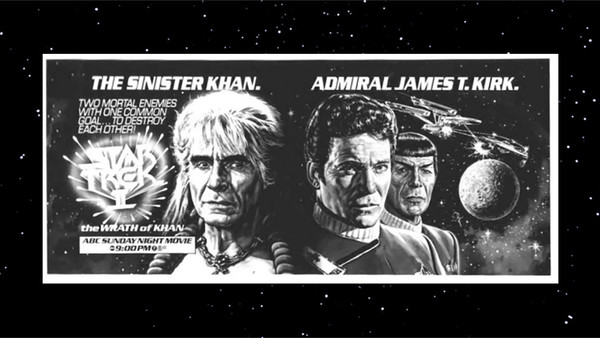 Over the years, there has been some confusion as to whether or not Star Trek II was first intended for television—and if it was, when the decision was made to distribute the film theatrically. A story that ran in Daily Variety on September 9, 1981 (when Meyer was furiously working on rewriting the screenplay) indicates that plans for the movie were still in a state of flux only two months before filming would begin:
Paramount will release the project theatrically abroad, but has decided to take a "wait and see posture" domestically. At one point, it had been planned as a two-hour telefilm and later anticipated as a feature.
Paramount was apparently unhappy about this report, and when they issued a press release on September 18, 1981 announcing the start of production, studio head Michael Eisner took the opportunity to deny that a movie-of-the-week had ever been considered:
Contrary to all the unconfirmed reports and the inevitable speculation about this project, "STAR TREK II" has always been intended as a full-length motion picture for release in the United States and Canada as well as in the international territories, Mr. Eisner commented.
A memo from Paramount Executive Bob Rosenbaum from September 29, 1981, however, indicates that the project had been conceived and budgeted as a TV movie as late as June 9, 1981. It was only sometime after that date that plans had changed, and according to Rosenbaum's memo, the budget was being adjusted to accommodate the extra costs of a feature film:
Management's decision to go theatrical and anamorphic has changed some things. Detail on the large screen is much more obvious than were it to be on television. Set construction, set dressing, special effects, wardrobe and, of course, special optical effects have to be much more sophisticated. This along with crews to be hired knowing that this is now a major motion picture (as was so announced) and who will not work for less than feature money have made [The TV Movie] budget escalate.
By the time the cameras were rolling, there was no doubt that the movie would be exhibited theatrically. A story that ran in the Wall Street Journal on October 9, 1981, for example, speculated on the effect Spock's demise would have on the movie's domestic box office, and subsequent newspaper stories anticipated a summer 1982 release date.
Any rumors that Paramount did not make the decision to upgrade the film to theatrical release status until after seeing it have been greatly exaggerated.