7 Best And 7 Worst Releases On Netflix In April
Your time is precious. Spend it (on Netflix) wisely.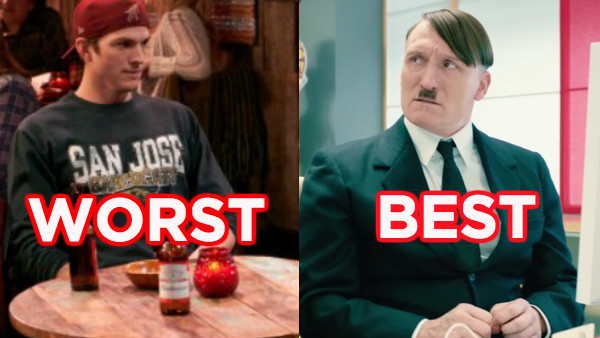 April's here, and it brings two things with it: Rain and the biggest Netflix catalogue update in living memory.
For your hard-earned £5.99 you get a whole load of hits, including a fair amount of original programming with Unbreakable Kimmy Schmidt and Ricky Gervais in Special Correspondents. A rockumentary starring American punk darlings Twisted Sister sits nicely alongside one of Woody Allen's finest films, season one of Z Nation, two classic Hitchcock thrillers and the return of Adolf Hitler.
Somebody has to be in the miss pile though, and this month it's the turn of Ronaldo, Ashton Kutcher's new sitcom (also a Netflix original), a budget version of The Expendables and a movie set on Mars with all the atmosphere of a day trip to Hemel Hempstead.
It's a minefield out there, so to help youplan your viewing carefully, here's aguide to the best and worst of Netflix this month.
14. Best - We Are Twisted F**king Sister
America's original cross-dressing glam band are back in a new documentary that shows their more gentle side. Only joking, this is f**king wild.
They played the bars and clubs in their home state of New Jersey in the late 70s and early 80s but the US wasn't ready for their metallic mix of teen angst and anti-school system rants (plus the country was unforgivably still in love with Disco), so the band jumped ship and came to the UK and signed to a major record label after an appearance on the seminal music show, The Tube.
Twisted Sister were low on style but heavy on attitude, something a lot of modern music could learn from today. Can you imagine their lead singer, Dee Snider, falling off a treadmill to help Apple sell music? Hell no.
For your time you'll get a bunch of archive footage shot on VHS, the odd music video and stories that will no doubt make hairs everywhere stand on end.
We Are Twisted F**king Sister rocks up on Netflix from April 23rd.