8 More Fiendishly Clever Secrets Hidden In Famous Movie Posters
4. Murder On The Orient Express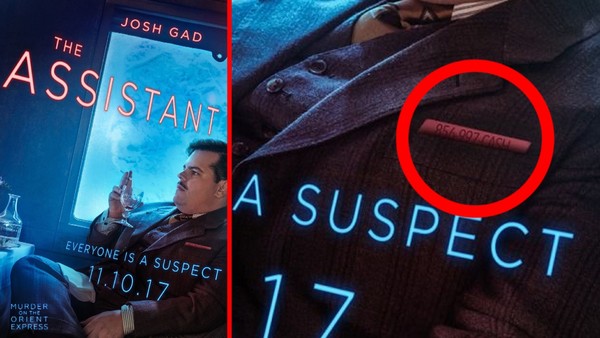 The promotional campaign for 2017's Murder On The Orient Express fully embraced the mystery element of the film itself, with several of its posters containing hidden clues and secrets which led back to a website, allowing fans to unlock exclusive content as a reward.
The character poster for Josh Gad's MacQueen contained one such secret, with a phone number - 856-997-CASH - written on the pocket square sticking out of his jacket. Upon calling that number, fans were greeted with the following message from MacQueen himself:
"Greetings. You've reached MacQueen's Accounting Services. I'm traveling at the moment and unable to take your call. Current clients, rest assured that your finances are being handled with the utmost discretion. For potential new clients, if your money's looking a bit dirty, you can receive my white gloved laundry service by using the phrase "squeaky clean" when we connect. Thank you for calling, and always remember: keep your money clean, contact MacQueen."
Rather than this just being random babble, the phrase "squeaky clean" acts as a password for the film's website. By clicking on the accounting book and typing in that phrase, users could unlock a digital version of MacQueen's calling card.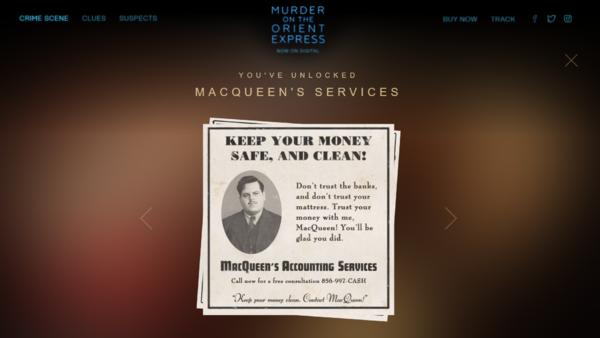 The movie's poster secrets didn't stop there either. There's a similar clue hidden on a coin held by Willem Dafoe's character in the main poster - in this case, it's the number "100".
This is another clue for the website: by clicking on the coin at the bottom of the crime scene, a short video titled "Tools Of The Trade" is unlocked, which is unlisted on YouTube and only visible to those who use the site.