Batista Turned Down WWE Hall Of Fame: Here's Why
Drax aint' ready for the tux.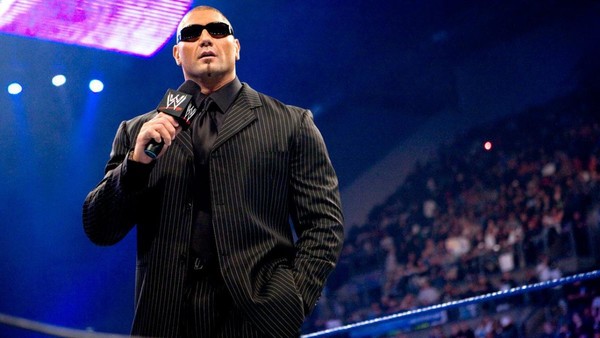 Evolution muscle-turned Hollywood hunk Dave 'Batista' Bautista has been slated for WWE's Hall of Fame for a little while now, with rumours about his possible induction cranking up the mill once more earlier this year.
Apparently, they were spot on - but it turns out Big Dave politely rejected the chance to swelter in a tight-fitting tux beneath the lights in New Orlean's Smoother King Center.
There's no animosity between the two parties, however: It's simply a case that the movie star doesn't believe he's finished in the squared-circle just yet - and doesn't want to rule out a return to the ring by accepting WWE's smaller Hall of Fame one.
Speaking with UK clothing store grplgme, Batista - who turns 50 next January - revealed he had declined the offer as he's anxious to make a return to action:
"I would love to go back. I've been very vocal about that. Never say never.
"This is why I haven't accepted any nomination into the WWE Hall of Fame. I just don't feel like my career is over. I feel like I have plenty to offer but now it's a scheduling issue and it's also a creative issue. Never say never. I'd love to go back."
Maybe WWE can stick him in the Celebrity Wing in the meantime?
Create Content and Get Paid
---