Christopher Lee: 5 Awesome Performances And 5 That Sucked
5 Awesome Performances...
5. Mycroft Holmes - The Private Life Of Sherlock Holmes (1970)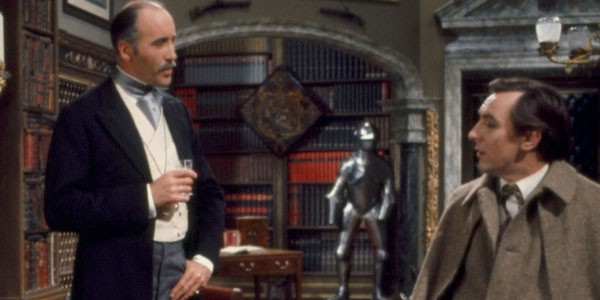 As I mentioned in my introduction, Lee's connection with Sherlock Holmes goes right back to his Hammer days, when he played Sir Henry Baskerville opposite his long-time friend and colleague Peter Cushing. That performance, fine as it is, just missed out on this list. But with Sherlock returning to our screens next month, it's fitting that we start our countdown with the film that both Mark Gatiss and Steven Moffat have cited at their favourite depiction of Holmes on the big screen. Directed by the great Billy Wilder (Sunset Boulevard, The Apartment, Some Like It Hot), The Private Life of Sherlock Holmes is an affectionate parody of Sir Arthur Conan Doyle's characters. Like Sherlock it borrows liberally from the numerous Holmes stories, particularly from 'The Adventure of the Bruce Partington Plans'. The main plot involves the disappearance of a well-known engineer in Scotland, with Sherlock's investigation involving the Loch Ness Monster, monks and a large group of midgets (the film's term). Looking at the film in hindsight, it's not hard to see which parts inspired Gatiss and Moffat - there is even the suggestion of a homoerotic relationship between Holmes and Watson. But Lee's performance as Mycroft is the ace in the hole, playing off Robert Stephens' Holmes quite brilliantly. His voice and intimidating build are used to great effect by Wilder, and Lee captures the stuffy, unimaginative air that Mycroft exudes which puts the brothers at constant opposition. It's a fine and witty performance, and a great way to begin our countdown.