Death Eaters Are Entering The Wizarding World Of Harry Potter This Halloween At Universal Orlando
Diagon Alley at Universal Orlando Resort will soon be taken over by dark wizards.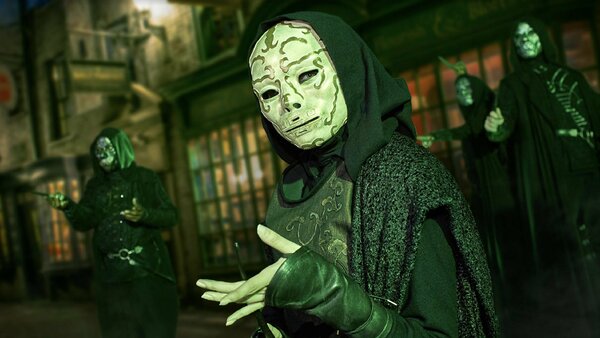 This fall at Universal Studios Florida's Wizarding World of Harry Potter will soon find itself over run by Voldemort's dark followers.
Death Eaters will be taking over the famous wizarding shopping district this Halloween season on select nights. Between 1st September and 4th November Death Eaters will be interacting with guests. This live entertainment will be taking place all around the London streets and the darkest place of all, Knockturn Alley.
This isn't the first time that Death Eaters have appeared at the resort. In the past Death Eaters have appeared in Universal Islands of Adventure in the Hogsmeade area of the park.
Here they roamed the wizarding town to try and recruit followers to Voldemort and brought with them an eerie presence in the wizard village.
This fall season the shops in Diagon Alley will also be selling unique Death Eater themed merchandise.
The presence of the Death Eaters in the Wizarding World of Harry Potter coincides with Universal Orlando Resort's Halloween Horror Nights celebrations.
Across select nights, Universal Studios Florida is transformed with terrifying Scare Zones, haunted houses and a fire filled show. With the addition of Death Eaters, it seems even Diagon Alley won't be a safe haven from the scares.