EXCLUSIVE Bad Times At The El Royale Interview With Drew Goddard
The director talks working with Chris Hemsworth, Jeff Bridges and Jon Hamm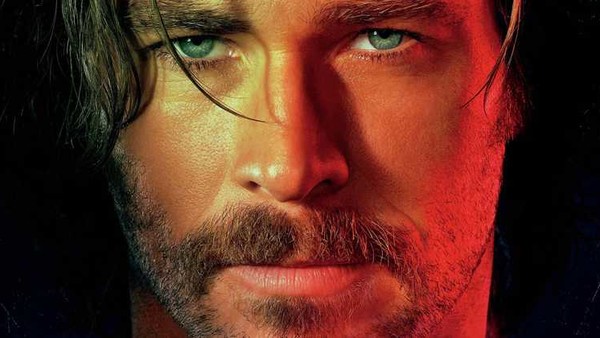 The inventive filmmaker and Oscar nominated writer, Drew Goddard, sits down for an interview about his riveting new mystery thriller, Bad Times At The El Royale. Set in the late 60s, the ingenious plot revolves around seven strangers with dark secrets, who cross paths at a rundown hotel right on the border of Nevada and California. Over the course of one fateful night, the lives of these individuals become entangled, as mysterious and shocking events unfold. Everyone at the hotel El Royale has something to hide and it is impossible to know who to trust.
Bad Times At The El Royale is released in UK cinemas this Friday 12th October.
As the guests check in to the El Royale, it's evident that times are indeed bad -- and it looks like they are going to get worse. The atmosphere is ominous, nothing is as it should be and there's a sense of foreboding permeating this establishment that has clearly seen better days. The hotel itself is unique, straddling two states. The rooms in Nevada have a different vibe from the ones across the border in California.
From acclaimed filmmaker Drew Goddard, (director of The Cabin In The Woods and Oscar-nominated writer of The Martian, Bad Times At The El Royale is an exhilarating and thought-provoking film about a group of colorful characters who meet at the hotel. Each character has something to hide and nobody is who they appear to be. Some are leading double lives and they are all looking for redemption. As the plot unravels, their lives become inextricably intertwined and the night descends into mayhem, with surprises at every turn.
The acting is exceptional across the board. Jeff Bridges stars as Father Flynn, an enigmatic priest, Dakota Johnson plays Emily Summerspring, a mysterious woman on a mission and newcomer Cailee Spaeny plays her sister Rose. Jon Hamm stars as Laramie Seymour Sullivan, a brash vacuum cleaner salesman, and Cynthia Erivo plays Darlene Sweet, a lounge singer. In a role that's different from anything he's tackled previously, Chris Hemsworth plays Billy Lee, a charismatic, egotistical cult leader. Rising star Lewis Pullman portrays the hotel concierge, Miles Miller.
Provocative and philosophical, infused with vibrant and emotive 60s music, Bad Times At The El Royale is a smart, original film noir.
……
Drew Goddard's career was established with his work on the hit television shows Lost, Alias, Buffy The Vampire Slayer and Angel. He earned an Emmy nomination as an executive producer on Lost. Goddard wrote the groundbreaking film Cloverfield, and co-wrote World War Z. He made his directorial debut with the 2012 cult hit The Cabin In The Woods. He wrote and executive produced the critically acclaimed box office hit The Martian, earning an Oscar nomination for Best Adapted Screenplay. Goddard serves as an executive producer and director for the television comedy, The Good Place. He is also the creator and executive producer of the hit Netflix series Daredevil.
The following interview with Drew Goddard took place in Los Angeles.
Q: What inspired this film?
A: "I'm inspired by crime fiction and film noir, so I just wanted to play around with those genres. I tend to do that. I've made horror films, sci-fi films. What genre haven't I played around in? I also wanted to do an ensemble film. I was coming from The Martian which has one lead actor (Matt Damon) carrying the movie and I wanted to play around with a large cast, so that you don't know who the protagonist is. All those things came together -- along with a love of hotels."
Q: What do you love about hotels?
A: "There is something about them that I find very romantic. You get to try on a different life in a hotel. You're usually in a new place when you're staying in a hotel. There's something about the experience that allows you to be a different person. You can think to yourself: 'Oh, this is what it would look if I were in Paris. This is what it would look like if I were in New York.' There's something about it that transports you somewhere and that, I suppose, has always been good for creativity and imagination. I love the entire spectrum of hotels, because for a creative person, it's about trying on a new life. For the El Royale, I liked this idea of a hotel that had a shadier side to it.
I found that exciting. Also, the movie is very much about these characters and their secrets, who they are and who they were. I felt that the hotel would be a perfect petri dish in which to explore each of them. Also, I tend to write in hotels, I wrote all of Bad Times At The El Royale in a hotel in Ojai, California, The Ojai Valley Inn. I checked myself in and wrote the whole script in three weeks."
Q: Was the El Royale inspired by a particular hotel?
A: "I've heard all the stories about the famous Calneva Resort at Lake Tahoe (the original name) that was situated in two states, California and Nevada, and I always found that a romantic idea. There are a lot of conspiracy theories about the hotel that certainly stoked my imagination. I remember hearing about it as a teenager and thinking, 'That sounds cool.' It was part of the inspiration, but I intentionally wanted to create my own hotel."
CONT'D [1 of 4]