EXCLUSIVE Bad Times At The El Royale Interview With Drew Goddard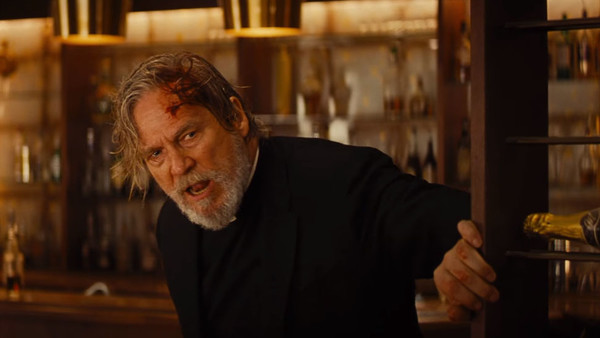 Q: What can you reveal about the story?
A: "The movie takes place over one night in this hotel that is on the border, so it's half in California and half in Nevada. It is a crime story about four strangers who check into the hotel, each has secrets that they don't want to expose. The script started with a simple question: 'Who's checking in?' Also, frankly I thought about which actors I'd like to work with at the end of the day.
I thought: 'Okay, I want to see Jeff Bridges wearing a priest collar checking into a hotel. I want to see Jon Hamm carrying a vacuum cleaner checking into a hotel. I want to see Cynthia Erivo carrying her own bedrolls and the mystery that implies. I want to see Dakota Johnson, who's not carrying anything.' I like the idea of seeing these four people who are sort of archetypes in what they represent, standing in the lobby together and I let the story progress from there."
Q: What is it about Jeff Bridges that you admire?
A: "In general, when it comes to casting, I always look for two characteristics: can you break my heart and can you make me laugh? If you can answer those two questions it's a 'yes' and then I'll figure out the rest of it. For my entire life, Jeff Bridges has been breaking my heart and making me laugh. So the movie really started with me wanting to work with him, to explore things that I hoped he hadn't had a chance to explore as an actor before. And that's difficult when you have an actor like Jeff with such a breadth of work. You really have to come up with a complicated character and I believe we did with Father Flynn. You definitely learn that there may be a darker side to this priest than we are initially letting on."
Q: How interesting is it working with an ensemble cast?
A: "It's great. When you have this many extraordinary actors, you have to be on your game (laughs). I had to come to work every day ready to maximize each of their talents. You need to make sure all your characters are vibrant. If anything, it fell on the writer rather that the director to make sure that all the parts were serviced."
Q: How do you separate Drew Goddard the writer from the director?
A: "I had to treat the writer and director differently. We spent time early in the process when I got the whole cast together and I said, 'Listen, let's sit around and talk; this is your time with the writer. Let's talk about your parts and get this script right, so then we can fire the writer (laughs), because we don't need him on set complaining about how you said his words wrong! We need the director on set who can be free of all of these things and just find moments of truth in the performances.' So that is how my process needs to work. As a result, it makes the two jobs separately fun."
Q: It must have been exciting getting this excellent cast together?
A: "One of the best parts about being the writer, the director and the producer is that you can say, 'Hey, I only want people who are delights and who are wonderful to be around.' I've reached a stage in my career where life's too short to put up with difficult, toxic people and I try to do my best to create an atmosphere that is nurturing and supportive and loving. Honestly, there were days when I would look through the viewfinder and see Chris Hemsworth, Jeff Bridges, Dakota Johnson, Jon Hamm, and Cynthia Erivo and I would think to myself, 'How is this my life? How am I this fortunate?' I still don't quite know what star I sailed under. When you look at my cast, it's basically my wish list of actors who inspire me."
Q: Jon Hamm is one of those and has a prominent role.
A: "Jon is emblematic of the type of actor I want to work with for the rest of my career. Without saying too much, we had a scene that basically required him to know 14 pages of dialogue. He got the script two days before we started shooting and he knew all of it without missing a comma. He is a director's dream! His technical skill is off the charts and yet at the same time he never loses the emotion and the empathy that is required for such brilliant performances. Jon plays a vacuum cleaner salesman named Laramie Seymour Sullivan and that's all about all I can say about Jon (laughs)."
Q: What can you say about Dakota Johnson?
A: "She's actually the one we can probably say the least about. She plays Emily Summerspring who is intentionally mysterious, she does not give away much and I think it's better to let the audience discover her as the film proceeds. Dakota came up doing comedy and I happened to be in the audience the night she was hosting Satruday Night Live and I was very impressed. I'm a big believer that when people do comedy well and can land a joke, it's very likely that they can also break your heart. Her comedic timing is off the charts.
And when you combine that with her singular ability to open up her heart and pour it on the table, she's the complete package. I knew with Dakota there was a new side of her we could explore and I'm excited for the world to see what she does in this film."
CONT'D [2 of 4]