Justice League: Does Chernobyl Link It To Wonder Woman 2?
Is this why Steppenwolf chooses the site?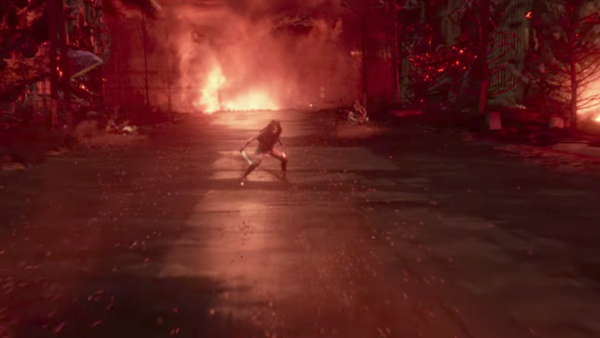 Even with its thunder well and truly stolen by Star Wars: The Last Jedi, there's still a lot to unpack from the Justice League trailer that dropped on Sunday.
The new footage further established the tone of the movie and gave away some tantalising plot details, with the film's key action sequence - the one taking place under the red sky - seemingly happening at the site of the Chernobyl disaster.
As we previously suggested, it could be that this site is heavily connected to Darkseid, but now another theory from Screen Rant posits that it could be how Justice League connects to Wonder Woman 2.
As they revealed earlier in the year (which was then confirmed by The Wrap), Wonder Woman 2 will take place during the 1980s, with a focus on the Cold War. Beyond that, though, the specifics of how Diana Prince fits into the conflict is unclear - but the trailer might offer us a hint.
As Screen Rant notes, there's surely some reason Steppenwolf (and presumably above him, Darkseid) has taken such a keen interest in the site of the disaster, and why it has been singled out rather than a different nuclear fallout area. Chernobyl is within the former Soviet Union, which is where the events of Wonder Woman 2 are likely to take Diana.
So, the theory goes, it could be that there are bigger plans for the area Wonder Woman has to prevent, but that itself still leads to the disaster occurring - they float the idea of the Female Furies, which would give it a further link to Apokolips. That, then, would be why Steppenwolf is attracted to the location in Justice League.
The first Wonder Woman movie enjoyed great success by tackling a difficult, devastating period of the 20th Century, so it's not too much of a stretch to imagine the sequel attempting to do that again, and including Chernobyl offers a chance to do that without totally sticking to the formula.
It's also a chance to connect to Justice League, because these movies do still share a universe (even if it isn't called the DCEU), without being too on-the-nose or getting in the way of a standalone story.
How do you think Chernobyl fits into this story? Share your thoughts down in the comments.