Minion Land Is Coming To Universal Orlando Resort This Summer
The new land at Universal Studios Florida is set to open in the coming months.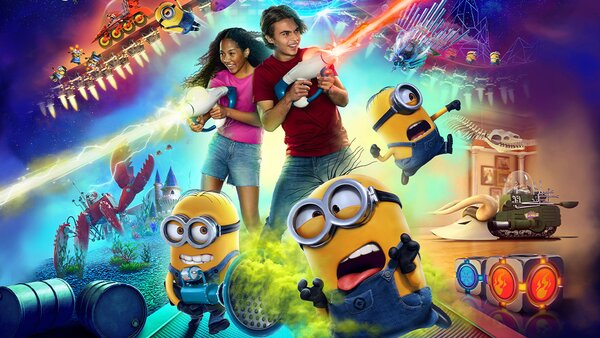 Universal Orlando Resort is about to get even more fun with the Minions set to take over a whole area of their theme park.
Late last year, Universal announced that guest would soon be putting their supervillain skills to use with a brand new attraction coming to Universal Studios Florida. Illumination's Villain-Con Minion Blast allows guests to head right into the Orlando villain convention and compete against each other. The state-of-the-art blaster game will see you become part of the "Vicious 6" as you score points by blasting your way along a "motion based pathway".
Universal have now released even more details about what other Minion themed fun is coming to the new land.
Joining Illumination's Villain-Con Minion Blast and the land's other attraction Despicable Me Minion Mayhem will be a whole food and fun themed area.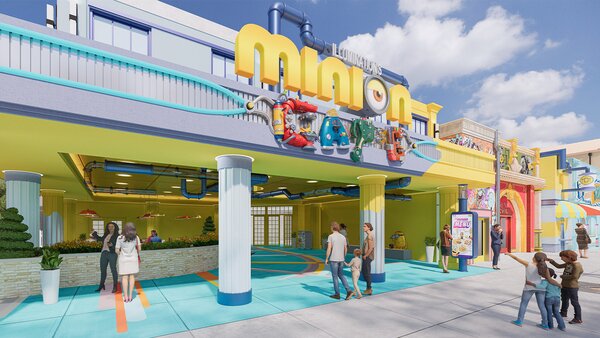 Illumination's Minion Cafe is set to be the perfect place that you can fuel up for day of a dastardly amount of fun. The menu is of course themed after our favourite minions and Kevin, Stuart, Bob and Otto have all put their style on the cafe.
The dining location has three distinct areas. The Kitchen area gives diners a glimpse at some of the "equipment" that have gone into creating the new cafe. The Breakroom allows you to have your lunch in the same place the Minions use to relax. This area gives you a look at some of the "Office Safety Tips" and even the "mischievously" stocked vending machine. Finally you can hang out in the Dining Room with its brightly coloured Minion artwork walls.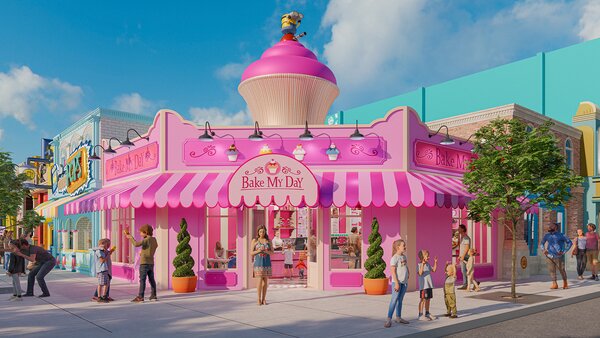 Illumination's Minion Cafe has all sorts of Despicable Me inspired foods. There's Otto's Noodle Bowl, Agnes's Honeymoon Soup and Carl's Crispy Cauliflower. The kids menu has the Mini Boss' Mega Melt and kids of all ages are sure to enjoy Bob's Teddy Bear Chocolate Cream Puff.
The new land will also feature Bake My Day, a bakery and store. Here you can pick up cute Minion merchandise and cupcakes treats.
A Minion themed land wouldn't be complete without a banana flavoured treat. Pop-A-Nana is a pop up shop featuring banana flavoured popcorn. Freeze Ray Pop offers another location where you can grab a snack, with popsicles and beverages based on your favourite characters.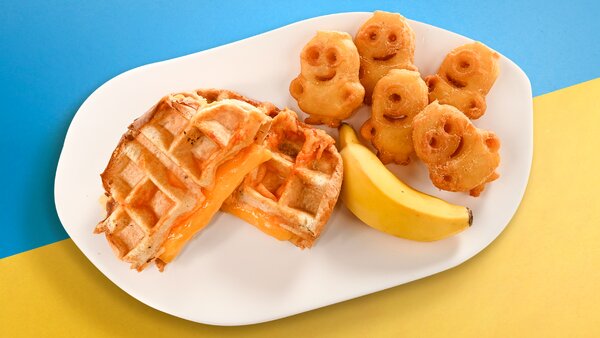 Minions Land will also feature a meet and greet area where you can interact with some of the characters including Gru, Margo, Edith, Agnes and of course the Minions. Universal have also confirmed that the Illumination Theater will also host characters from another of the animation company's big movies Sing.
As of yet Universal Orlando Resort haven't announced when the new land will be open, but with the pink cupcake of Bake My Day already visible to guests, it won't be long before we can all enjoy a despicably good time in Minion Land.