Olympics 2012 Film Part 4 - Norway, Denmark, Cuba, South Korea, Netherlands & Canada
Denmark €" 170 Medals
Danish cinema has always emanated as one of the more popular European markets. From its beginning, it has always had an interest in the erotic, which in the early 1900s was dialed down by the industry. Its liberal view of sex had perhaps come too early for the country, leading to a self-censorship, which had an adverse effect on the popularity of Danish cinema both at home and abroad. It suffered for many years, nevertheless, it still managed to show artistic growth during WWII. However, it was not until the 1970s that Denmark saw another permanent stylistic shift. Being one of the first countries to legalise pornography in 1969, it saw Danish cinema return to its eroticised roots with a certain bravado. With many of its mainstream films embracing soft core sex scenes, it was a key indicator of how liberated their cinema had become, this remains today with many directors still embracing the erotic. However a new wave of cinema was soon on the horizon, one which would remain sexually liberal, but bring with it controversy in its themes, albeit a controversy, which brought attention to the country's cinematic output once more. Dogme 95, was an avant-garde film movement started in 1995 by Lars Von Trier and his compatriot Thomas Vinterberg. They created a manifesto of filmmaking rules, symbolised by the vow of chastity that every director would have to adhere to, to be included in the Dogme canon. For example, you€™re only allowed to film on location, there is a ban on any superficial action and rather ironically, the director must not be credited. Favouring independent and cheaper productions, Dogme€™s appeal to other filmmakers was the ability for their films to gain recognition on a global stage while keeping the costs of their films low. Riding the wave of Dogme€™s artistic global recognition, it helped many directors get their big break in the industry. Unfortunately, the Dogme manifest has been manipulated with its malleability there for everyone to abuse. Thus, what was once a highly successful domestic market has now seen a massive downturn, with many of its best directors, such as Von Trier, choosing to leave for larger western productions.
Bronze - Valhalla Rising (Nicolas Winding Refn, 2009)
With Nicolas Winding Refn now being a Norwegian name which the west has come to be quite familiar with, perhaps now is the time to revisit his Nordic warrior film, Valhalla Rising. Refn had already made waves in Denmark thanks to his drug dealing trilogy Pusher. But, it was his impressively violent tale of a mysterious mute Norse warrior, that helped to build upon an impressive reputation in the west following his film, Bronson. Set in 1000AD, the captive warrior One eye and a young boy escape their Scottish jailors by brutally killing them. In their new found freedom, they join a group of violent Christian crusaders, who are travelling to Jerusalem. The crusaders faith is constantly in debate, mainly because of their extremely violent nature, or perhaps it is the fact that they have a few semi naked women on the boat (the reason isn€™t clear but we can jump to conclusions). With the travel to the Holy Land a long and arduous journey, many men on-board begin to lose faith and become suspicious of One Eye€™s presence. With mutiny a threat, they eventually disembark on a new land, however the land seems anything but Holy and instead seems more like a hell. The film is laden with techniques now very much attached to Refn. Gore and violence for example are in abundance, shown in a very visceral way which somehow maintains that elegant and graceful tone, which Refn has now mastered. The sprays of red are bright and vivid, while the choreography is slow, brutal and calculated. A tale which crosses violence and faith, Valhalla rising is a long and demanding film, that is well worth your attention.
Silver €" Festen (1998), The Idiots (1998)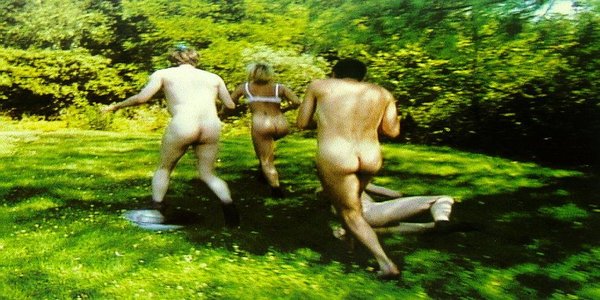 Again another bit of teaming up here for the Silver, we can look at this pairing as the two starters for a relay team, seeing as they both helped to create the rules of Dogme. Signalling the beginning of the movement, Festen was released first, before handing the baton over to The Idiots a few months later. Festen, which is seen by many as the best film of the movement, revolves around a celebration. A family gathers for the 60th birthday of their father. It would appear on the surface to be a happy affair, except one of his sons soon accuses his father of sexually abusing him and his now deceased twin sister. It is hard to believe that the film can delve deeper into darkness, but it does. A great study of a problematic family and its troubled history, Festen is a film which displays the power of Dogme€™s organic filming, making the families personal affairs resonate with ferocious power. The Idiots, on the other hand, is a film I find incredibly interesting and yet extremely worrying. The film examines a group of friends who come together at a country house to explore their €˜inner idiot€™, which basically means pretending to be mentally handicapped. It truly is a difficult watch and even led me to have an extreme disliking for its €˜non€™ director, Lars Von Trier. The film even famously led, Film critic, Mark Kermode to shout €˜Il est Merde€™ (it is shit) at the Cannes screening, a damning verdict I'm sure you'll agree. However, it is impossible to deny that it is not an extremely interesting film to analyse. Von Trier never shies away from his controversial subject matter; he gives no motivations for the Idiots actions, which makes some scenes particularly uncomfortable to watch. As Von Trier said, €œA film should be like a rock in a shoe€, this particular rock is one that is incredibly uncomfortable, but one you will examine once you have freed it from the confines of your shoe.
Gold - Open Hearts (Susanne Bier, 2002)
A film which utilises certain elements of the Dogme manifest, Open Hearts is much different from its fellow regulated ancestors. The film follows the lives of a seemingly happy couple. Joachim and Cecilie, are madly in love and destined to marry, until an ill-fated car crash causes ruptures in their lives. Paralysed from the neck down, Joachim is looked after by a doctor, Niels, whose wife, Marie, was coincidentally responsible for the crash. As his treatment progresses, he becomes angry and distant towards Cecilie, emotionally and physically pushing her into the arms of the married doctor Niels. The narrative deals with their betrayal to their respective partners, in a moment when both, need them the most. With most films of the Dogme movement falling under its own pretentious mechanics, Bier instead uses the stripped down filmmaking style as a companion to the films raw and emotional story. The film lacks any kind of superficial elements, avoiding a stylistic plasticity; it is deliberately rough around the edges and needs to be. The title is a fitting one, placing the viewer in a voyeuristic standpoint, emotions are there to be seen and examined. Bier' chosen style, does not allow for emotions to be lost in the scenery; with a brilliant taut and naturalistic script they are open to everyone. Unlike much of the Dogme movement, the defining aesthetics take a back seat to the humanist drama on show, a choice which works to benefit the narrative.