Ready Player One's Cast On Working With Spielberg And Their Favourite References
Everyone loves the Iron Giant.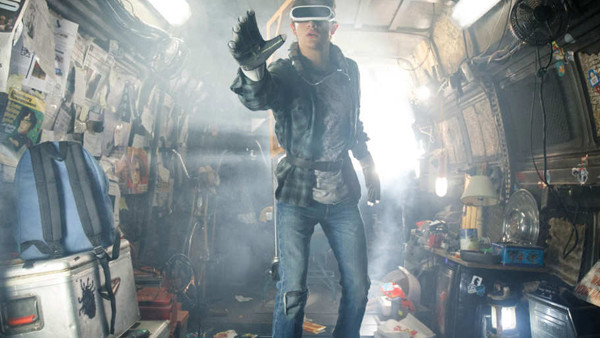 Steven Spielberg is back in the blockbuster business.
His best work of the last decade or so has primarily come in the form of period dramas, from Lincoln to Bridge of Spies to The Post, but his latest venture - Ready Player One - not only sees him back in the genre he started back in 1975, but also back on form.
Spielberg is, of course, a legend of cinema, and we were able to attend the red, sorry, *blue* carpet European Premiere of the movie and chat to a few members of the cast about what it's like to work with the master.
Tye Sheridan, who leads the movie as Wade/Parzival and is our entry point into the Oasis, said:
"It's the most amazing ride of my life. I never imagined in a million years that I'd be working with this man. He's a childhood hero of mine, and to collaborate so closely with him everyday for four months was so special. He's become a great mentor, role model, and supporter of mine, and that means the world to me.
"We had the best experience making this movie, it was so much fun, and it was so exciting to wake-up and go to work every morning - and that doesn't happen on every film, so this was a very, very special experience and it stemmed from the very top with Steven."
Hannah John-Kamen, who plays IOI's head of operations F'Nale, echoed these sentiments and explained what Spielberg's presence is like on set:
"His presence on set was amazing. He kind of has a calming presence and a freeing presence, where you can just get in there and create with him."
The actress then went on to reveal a more surprising tidbit about her favourite part of working on the set, which might help explain why he's committed to a remake of West Side Story:
"For me, it was in between takes singing with Steven Spielberg. We'd sing showtunes: Guys and Dolls, A Bushel on a Peck, we'd sing Singing in the Rain, some Sinatra. He's a great singer."
Win Morisaki, who plays Daito, said: "This was my first time working in a Hollywood movie, but Steven made me feel good, he made me feel comfortable, and he listened to my opinions. One day we were shooting a scene and he was shouting at me, 'Win, that's what I want!' and he came to hug me, and I was like, so happy."
It wasn't just the cast who were impressed by working with Spielberg though, with the book's author, Ernest Cline, also expressing how great the experience was:
"It's been the coolest experience... It's been three years and I keep pinching myself. I was very nervous [meeting Spielberg for the first time] and felt kind of how I imagine everyone feels meeting Steven for the first time. My wardrobe was overthought, I had a haircut, I was really anxious, and he sensed that and immediately set me at ease, started to talk to me about movies, and our movie, and immediately made me feel like a collaborator...
"I brought my DeLorean glovebox, I unscrewed it from my DeLorean at home, and when we started talking about putting the DeLorean in the movie I pulled out my glovebox and had him sign it. Then he told me he'd never sign another DeLorean in his life, so I have the only Steven Spielberg signed DeLorean in the world."
Next Page: The cast on their favourite references...