True Story Behind Robert Pattinson Becoming Batman
How the Twilight star became the new Dark Knight.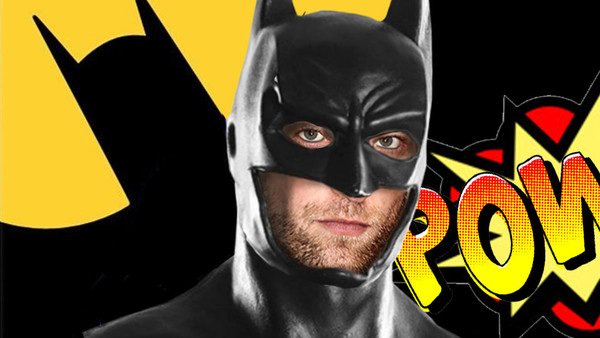 Robert Pattinson is Batman.
Even now, a few weeks after the reports first started surfacing, it feels a little weird to say. Not because Pattinson lacks talent, but because he rose to stardom in Twilight, quickly becoming the butt of so many cinephile jokes and subject to so much scorn. And because, since The Twilight Saga ended back in 2012, he's carved out a reputation as an actor of great range in small, diverse dramas, but hasn't been anywhere near a major tentpole. In fact, after Twilight (and Harry Potter before it), there was plenty to suggest he'd have no interest in a blockbuster. And yet, here we are, two years out from the release of Matt Reeves' Batman movie, and Pattinson will be taking on the role of the Dark Knight.
So, how did R-Pattz become R-Battz?
As per THR's Heat Vision report on Pattinson's casting, the process was apparently a quick one - "quicker than normal", according to one of their sources. Which is particularly interesting, given that this film has been in the works for so long. Ben Affleck was originally going to direct and star, and then just star, with Reeves coming in to direct back in February 2017.
From that point onwards, though, Affleck's future always looked in doubt, which only increased after the poor critical and commercial performance of Justice League. Rumours swirled about Batfleck's exit, but it wasn't until earlier February year that it was made official. And with that out of the way, Reeves could properly start casting his film.
Helpfully, Reeves was reportedly envisioning actors while writing the script for the movie: he knew that this version of Batman would be around 30-years-old and, while it won't be another origin story for the character (previous rumours it would adapt Year One were shot down by the man himself), he's not going to be a fully developed crimefighter just yet either. He is a Bruce Wayne who has already donned the Batsuit, but is still working towards becoming the World's Greatest Detective and protector of Gotham City.
The writing was already on the wall for Affleck, but this simply underlined it and added a few exclamations points. Pattinson was someone Reeves was considering from a relatively early stage, which makes sense: not only was he an actor not attached to a major franchise like the MCU, but he's also been proving himself as one of the best actors of his age group in the last few years and, while a surprise to some, has featured on a couple of different suggestion lists to replace Affleck. Like this. And this.
In the end, as reported a few weeks back, the choice came down to Pattinson and Nicholas Hoult who, although a member of the X-Men franchise, isn't the face of it. Reeves is said to have spent a lot of time looking over both actors' works, and while Hoult certainly impressed him, it was Pattinson's work in films like Good Times and High Life that stood out. Rightly so, too, because he's incredible in both of them (and so many of his other post-Twilight films); capable of showing intensity and intelligence, of being closed-off or charismatic, he has all the attributes you could want from a new spin on the Caped Crusader, including a jawline that'll look damn good in the suit.
The final step for both actors, who quickly became the only two in the running, was a screen test in an old version of the Batsuit. By this point, both had already signed pre-agreements, so it was simply a choice of Reeves and Warner Bros. deciding. These took place towards the end of May, with Pattinson going from Cannes - where he'd just silently smiled when asked by guests about the Batman rumours - to try out, with Reeves looking to see how well they captured the character and how they looked in the suit.
Ultimately, the role went to Pattinson, with Warners confirming it just last week and Reeves celebrating with some bat emojis on Twitter. Like the castings of Michael Keaton and Heath Ledger before him, this is another Batman movie casting that's already proved divisive. But like those, it should prove to be a very, very shrewd choice as well. He is the Batman we need right now.
Are you excited to see Pattinson's Batman in action? Let us know down in the comments.
Create Content and Get Paid
---