Walt Disney World's TRON Lightcycle / Run Is Officially Open
Guests at Magic Kingdom can now board a Lightcycle and enter the digital world of TRON.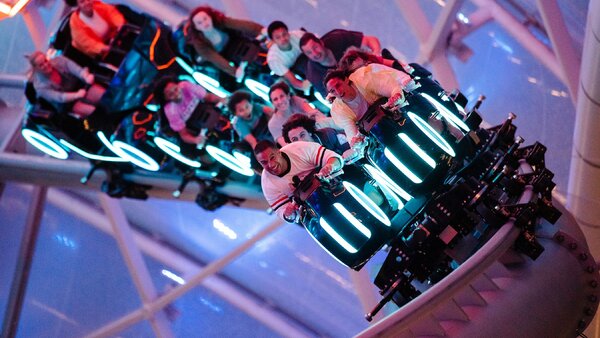 April 4th marks the opening day of Walt Disney World's newest attraction.
Magic Kingdom's TRON Lightcycle / Run Presented by Enterprise is officially open to the general public after its soft opening over March.
The new coaster sees guests enter the Grid and find themselves the Programs' fierce Orange Team. You'll hop aboard a Lightcycle, just like in the TRON movies, and experience a ride like no other at the resort.
TRON Lightcycle/Run brings plenty of thrills to guests at Magic Kingdom. The attraction reaches speeds of up to 60mph making it the fastest ride in the resort.
The attraction has two distinct sections of the ride. The first sees you blast out of the loading area into the swooping outside portion, which is covered from the elements with a canopy that comes to life in the evening with over a thousand lights. The second portion sees guests enter the indoor portion of the ride where guests find themselves racing to be first to enter rings and win the battle against the Orange Team.
We were lucky enough to experience the new attraction during its soft opening phase and were blown away by the ride.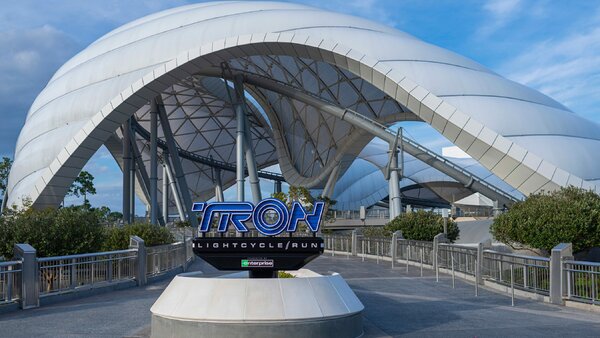 The opening of TRON Lightcycle/Run means guests at Magic Kingdom aren't just getting a new coaster. Energy Bites will help you fuel up for the big race. Located just at the entrance to TRON Lightcycle/Run, the snack bar offers "sweet nods" to Shanghai Disneyland's version of the ride. Snacks such as Digital Dumplings and Strawberry IceOform will give you the energy you need to take on all the thrills of entering the Grid.
TRON Lightcycle/Run also has its own set of merchandise including themed collectable pins and even customisable action figures.
Walt Disney World guests who want to experience the brand new ride will need to make sure that they join the attraction's Virtual Queue on the days that they have a reservation at Magic Kingdom.