Walt Disney World's TRON Lightcycle/Run Review: 6 Things You Need To Know
We raced into The Grid to find out everything there is to know about TRON Lightcycle/Run.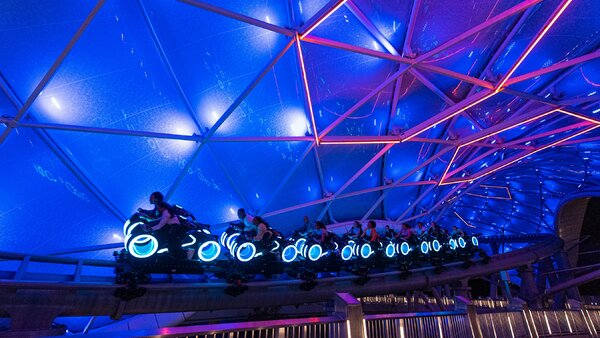 Walt Disney World's latest attraction TRON Lightcycle / Run Presented by Enterprise is currently allowing guests to enter The Grid as part of its soft opening in Orlando, Florida. The ride gives guests a sneak preview before the attractions official opening date on 4th April!
As we've experienced it for ourselves we can confirm that TRON is a fast and as thrilling a ride that Magic Kingdom offers. In the attraction you'll board a lightcycle that sees you race against the Programs' "fierce" Team Orange in a unique experience unlike any other coaster vehicle in Walt Disney World.
The new ride takes place just after the events of "TRON: Legacy", where you will use a gateway created by Sam Flynn to enter the digital world.
TRON Lightcycle / Run Presented by Enterprise, along with its sister ride in Shanghai, is the fastest coaster in any Disney park. The huge canopy that houses the outside portion of the track comes to life each evening as it glows with over a thousand lights. As you ride you'll experience Joseph Trapanese's "urgent" and "moody" score.
We managed to join the ride's Virtual Queue and experience the newest attraction at Walt Disney World this week.
Here's everything we learned from our experience of riding the brand new thrill ride in Tomorrowland...
6. You Must Join The Virtual Queue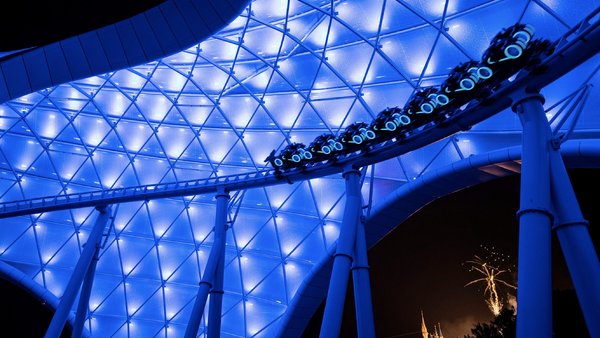 TRON Lightcycle/Run is currently operating as part of a soft opening and guests can only ride the attraction by joining a virtual queue. This is likely to continue long after the attraction officially opens on 4th April.
We have mixed feelings about virtual queues. They are great in that you aren't waiting in a multi-hour line and can instead enjoy the park's other offerings.
The Virtual Queue only provides an estimated wait time as to when your boarding group will be called, which can mean that you don't know precisely when you will ride. You need to keep an eye on the My Disney Experience App to make sure you don't find yourself in a position where you miss your Boarding Group due to being busy elsewhere.
Virtual queue means that you can only obtain one on days you have a Magic Kingdom park reservation and there are only two opportunities, 7am and 1pm, to obtain a boarding group. Boarding Groups go within seconds so you need to set your alarms and be ready on the app to refresh at EXACTLY the right time or you will miss out.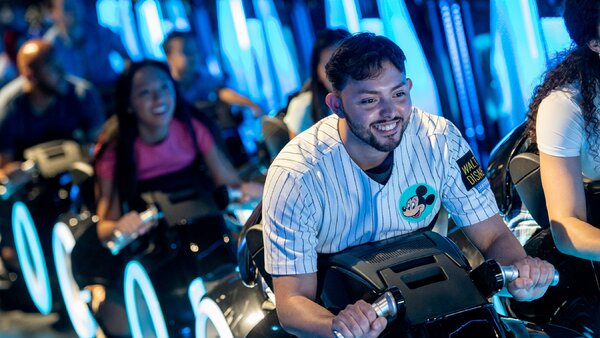 For many guests, the extra work involved in obtaining a Boarding Group might be less preferable than queuing, whilst some will prefer to just join a regular line. Given this is a busy time in the parks and Star Wars: Rise of Resistance reaching wait times of up to 200 minutes, Virtual Queue can be great.
Walt Disney World now sends notifications on their app reminding you the day before that if you are entitled to join TRON's Virtual Queue. We think this is great as it helps inform those who've never experienced it before about the Virtual Queue process.
Virtual Queue doesn't mean no wait time at all once you are called. We waited just under an hour to board once we entered the attraction. This is still soft opening; the ride may have downtime and its operators are still learning how to make wait times as efficient as possible.
Just remember, if you want to ride TRON Lightcycle/Run you need to get those park reservations in for Magic Kingdom and set your alarms or you might miss out!