11 Shameful Video Game Achievements You Don't Want To Share
6. ...I Did It For The Trophy - Yakuza 0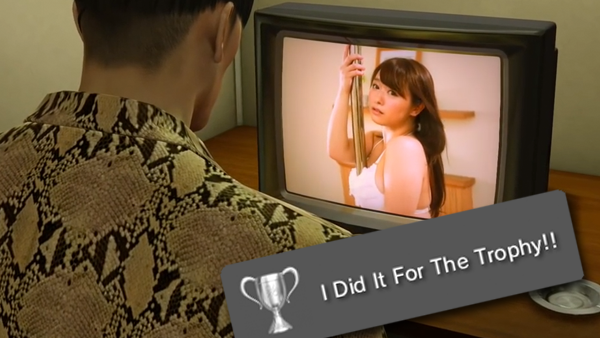 Another entry, another adventure in being a prolific pervert rewarded by a tiny trophy to fill out that all-important list!
In Yakuza 0, protagonist Majima Goro can do many side activities. You can head off to the batting cages to practice your baseball skills, hit the disco for a bit of a groove, visit the arcade to play some classic Sega games, or you could instead head to the adult film viewing parlour, where Kiryu will sit stoically, staring at videos of scantily-clad women.
Once Kiryu's settled in, you, as the player, will get to see the video full-screen. The actual videos themselves are provocative, sure, but all of the women are still wearing clothing, and the whole thing is just like some kind of bizarre fever dream. It's the kind of side activity you'd probably just do once out of curiosity whether they'd somehow managed to sneak hardcore porn into their game and never touch again afterwards.
At least, you would, if the game didn't give you a trophy for watching all of the available videos!
Just remember when you're done...You Did It For the Trophy.