10 Amazing Covers By Music Artists You Didn't Expect
Miley covering the Arctic Monkeys SLAPS.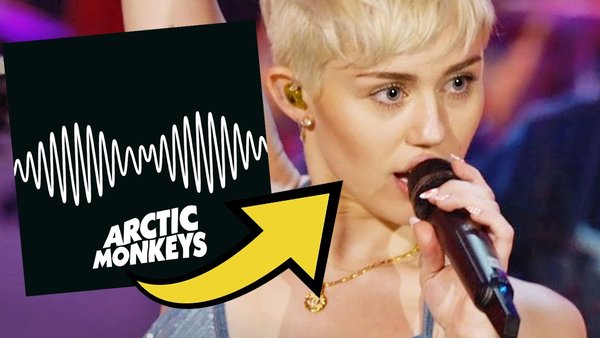 Improving on an already beloved song is a feat few artists have achieved.
From genre-splicing, to loving recreations, the ability to cover a tune that has already cemented its legacy in pop culture, or amongst music fans is surely daunting to any musician, as the expectations that come with it are so often astronomically high.
Staying faithful to the original, while adding a unique flavour to a tune is a line that is so very thin, and deviating from said parameters will likely result in criticism that the cover is either too similar to the source material, or too different from what made the original so great.
Weezer's take on Toto's 'Africa' falls into the former, while Marilyn Manson's 'Sweet Dreams' sits firmly in the latter category, and while each have their fans, they face equal criticism for their approach to each respective tune.
Some songs are given added depth by artists who nobody would expect to do it justice. Sometimes years are spent listening to a track sang, performed, and composed in a certain way, only for the most unexpected artist to cover it in a way that truly stands out.
10. Girl Crush - Harry Styles
Though the sudden break-up of pop mega-band, One Direction, was a travesty to those who found comfort in their cheesy tunes, there's no denying that each of the five past members have gone on to have successful solo careers.
From Niall Horan's funky hit 'Slow Hands', to Zayn Malik's collaborations with the likes of Sia, and Taylor Swift, the band have been as beloved as solo artists as they were together. There is, however, an outlier, as Harry Styles has been a musical force in recent years, with two superb albums, and a handful of unexpected covers.
Taking Little Big Town's gorgeous 'Girl Crush', and bringing his own trademark swagger, Harry Styles somehow improves upon the original, with a simple, melancholic guitar being paired with Styles' soft-rock vocal performance. The cover was a staple of the Redditch-born artist's live shows, but was also recorded as part of a Spotify Singles collection.
The tune was originally written by country star Lori McKenna, alongside veteran songwriters Hillary Lindsey and Liz Rose, and scooped up Best Song at the CMA's, a feat Little Big Town would achieve once again with the Taylor Swift-written track, 'Better Man'.
Styles, it seems, has excellent taste in country hits, and the tune is all the better for his cover.