10 Greatest Drummers In Hard Rock
The best hard rock drummers in music. Where does Dave Grohl list?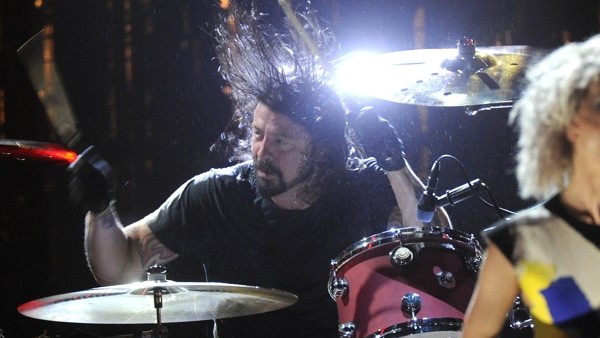 Hard rock tends to play favorites when it comes to the guitar player. Compared to the other instrumentalists in the band, it doesn't really seem to matter unless the song has a killer guitar riff behind it. On the other hand, most acts wouldn't be where they are today without having one hell of a backbeat behind them.
Throughout rock history, drummers tend to get either forgotten or pigeonholed as the dumb one in whichever group they're in. However, these guys behind the kit end up acting as the glue that ties each of these acts together. Regardless of what fancy guitar riff might be happening on top of everything else, the constant shifts in the rhythm is what helps propel the groove 90% of the time, making the drummer the most important factor in the group. Not only are these guys able to rise to the challenge, but they have each left their own stamp on the kit that is impossible to duplicate.
Whether it's the way they approach the kit, the sheer size of their setup, or even an iconic drum break, these players make the guitar players look tame by comparison. Making the guitar sing is one thing...this is where hard rock gets truly barbaric.
10. Bill Ward - Black Sabbath
It's hard to really play in a band like Black Sabbath and not find yourself getting overshadowed. After all, when you have a guitar god like Tony Iommi at your disposal and Ozzy Osbourne out front, the magic is just supposed to work itself out, right? On the other hand, there's a lot more going on behind the backbeat than just the mammoth riffs.
Aside from Geezer Butler's amazing lyrics and bass skills, Bill Ward is really the unsung hero of Black Sabbath in the early days. For all of the more basic stuff he was able to play, Ward's way of sitting in the song helped give each track its signature darkness. Take something like the song Black Sabbath for instance. Whereas the verses might just be light percussion here and there, it takes a real professional to be able to build it up for the breakdowns like Ward is able to do.
Being a descendent of jazz greats like Gene Krupa and Buddy Rich, you can hear that attention to detail in his playing, balancing both the powerful strikes with the subtle moments that lead you into the rest of the madness. Compared to the more technical drummers later down the line, this dark way of approaching the kit is what forged the foundation for metal music.