10 Moments That Prove Noel Gallagher Is A Genius
"I love our kid. Just not as much as I love Pot Noodles."
Noel Gallagher loves to let you know that he's better than you. He has a life that he loves, an adored back catalogue of populist pop songs that you didn't write, money that you don't have, wit that you want and an enduring appeal that is as obvious to his admirers as it is bamboozling to his detractors. Also, he's better than you.
As rock'n'roll royalty goes, he's up there. That statement alone is usually enough to annoy the s*** out of musical purists the world over who find the whole idea of musical regality utterly appalling and the insinuation that Noel Gallagher is sitting at the top of it completely vomit-inducing. And this is what makes the elder statesman of rock and roll so entertaining. His ability to resoundingly irritate millions of musical cliques across the globe via a simple 30 second soundbite or inflammatory headline is unmatched.
As much as it galls his critics, his music undeniably spoke to a generation of humans who liked nothing better than listening to a song because it made them feel good. With new Oasis documentary scheduled to hit cinemas on 2nd October - documenting the rise of Oasis in the mid-90's, the Gallagher Brothers' hair, their monumental musical output - it'll only provide further evidence that Noel Gallagher is obviously better than you.
To preface its release, here are a few more reasons that definitively prove that Noel Gallagher is a genius amongst us mere mortals.
10. When He Wrote 'Be Here Now' And Released It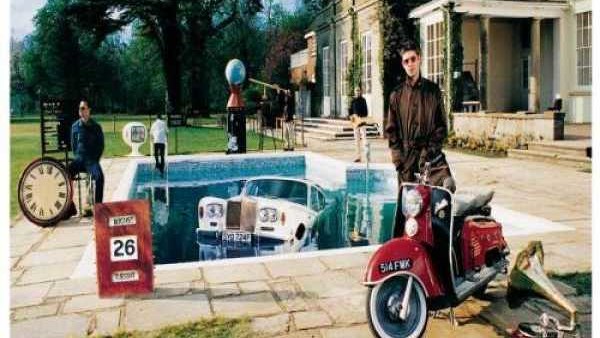 From 1996 through 1997, Oasis were the biggest and best group in the world. Bigger than The Beatles, Cast and Right Said Fred put together and more artistically accomplished than Rolf Harris, before he got done for... well, y'know. To celebrate this, they released their third album, 'Be Here Now', to wide critical acclaim after preceding the recording and release of it with an alleged 400 tonnes of cocaine.
Despite the record being about 16 hours in length, the tunes fizz by in a whirlwind of multi-layered guitars, over-produced thump and bloated brilliance. The clarity of Liam's vocal throughout the record was balanced perfectly between the eager rawness of 'Definitely Maybe' and the nasal swine of Oasis' later LP's after he had his teeth smashed out in a bar brawl sometime in the mid-00's; Noel's guitar parts are overdubbed enough to make you want to kill a man, and 'The Girl In The Dirty Shirt' is one of the finest pop songs ever written about dirty shirts.
Unfortunately, possibly due to the three key changes in 'All Around The World', a backlash occurred in the months after its release, Noel disowned the album about six months before this happened, and Oasis immediately split up twelve years later.
Its legacy, however, as one of the greatest piles of cocaine set to music cannot be disputed.