10 Most Legendary Horrible Gigs In Rock Music History
The Rock and Roll Failures.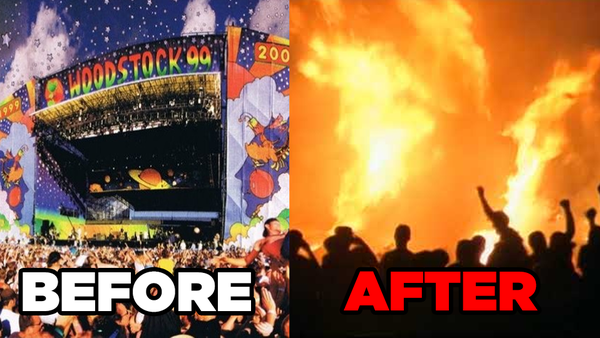 Every great rock and roll band takes pride in being able to kill it whenever they take to the stage. As much as the studio might be a playground for everyone to create something magical, the real damage comes when you take that magic on the road and deliver it to the people one night after the other. Sometimes it doesn't come together though, and these guys unfortunately have to deal with their failures on a grand scale.
Because these are the shows that have been etched into history for just how bad they ended up being. Though most of these bands could have saved the day by playing blistering sets for most of the night, most of them ended in disaster, either having to cancel the show early or just not bothering to give fans their money's worth at all.
One thing we will be ruling out on a list like this: deaths. Even though something like Dimebag Darrell's murder could qualify for a list like this, this is about judging the music and the way that the bands were able to interact (or in this case sabotage) their own performances and embarrassed themselves on the stage. Rock and roll is not meant to be perfect, but it should be at least a little better than what we got here.
10. Poison at MTV Awards
None of the hair metal bands from the Sunset Strip were necessarily known for being choir boys behind the scenes or anything. Who are we kidding here? From the amount of poodled hair going around and miles and miles of relentless energy when someone took to the stage, it was almost expected that bands would be out of their minds on drugs half the time. Things change when it comes to live TV though, and Poison were definitely not at 100% going into the MTV Awards.
Amid rumors that guitarist CC Deville had gone off the rails in the weeks leading up to the live broadcast, the band seemed to be doing well in rehearsals before CC showed up that night. Sporting a new bright pink haircut, the band was scheduled to play Unskinny Bop in their time slot, only for them to give up on the song about halfway through after CC just stopped playing. Flying by the seat of his pants, CC figured he'd stall for time by playing the opening riff of Talk Dirty To Me, only to give up on that too once the verses kicked in.
After a few bits of awkward silence and Bret Michaels desperately trying to keep things together, an all out brawl erupted backstage, resulting in Bret having a broken nose and CC sent packing, with Richie Kotzen eventually filling his position behind the fretboard. CC may have had to clean up his act, but his absence marked the beginning of one of the darkest times in the band's career.