5 Reasons Why You Should Be Listening To Fever 333
It's all about Strength In Numb333rs, so will you be in the minority, or the majority?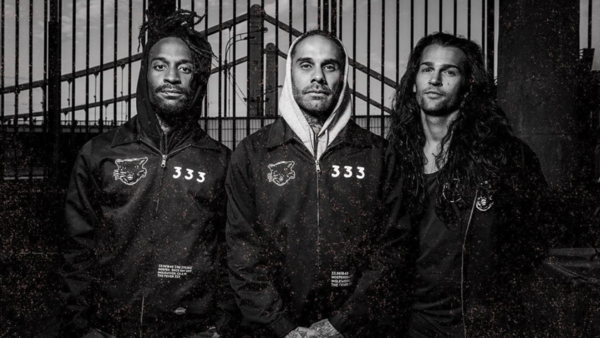 In two short years, Fever 333 have gone from non-existent to one of the hottest bands on the planet. The band, consisting of Jason Aalon Butler, Stevis Harrison and Aric Improta, aren't just a band, though. In fact music may simply be the vehicle for the trio to spread their message of unity and the people taking back the power.
If the music is merely a byproduct, though - well, they're doing it right! Having won the Grammy award for Best Rock Performance this year, showing up to the red carpet in formalised versions of their stage attire with the Black Panther-inspired graphics and the band's motto emblazoned, Fever 333 were making an emphatic statement regardless of the outcome.
Win or loss, the band want to make sure we all win - and if that comes at the expense of patriarchal norms - well, that's all the better.
5. There's Simply No-one Like Them
Musically, Fever 333 can't be defined by genre. Think Rage Against The Machine crossed with Papa Roach, BMTH and Linkin Park, and you might get somewhere close.

Think funk and soul beats with the main elements of hip-hop and metal music all infused into one with a mixture of heartfelt rap, raucous screams and the odd hint of sultry vocals and you have Fever 333.
However, that doesn't even tell half the story. The Inglewood rockers are most likely the most energetic bands you ever will see live - and if you look solely at the crowd, that energy is mirrored right back at them. Feel free to look away from the stage all you want, though, chances are you'll see one of these three guys flying through the air or scaling some kind of structure as the band literally take the music and the message to their audience at one of their demonstrations.
Gary Cassidy
Gary Cassidy is a freelance journalist who has interviewed Triple H, Stephanie McMahon, Chris Jericho, Paige, Charlotte Flair, Kurt Angle, William Regal, Rey Mysterio, Sheamus, Tyson Fury, Cody Rhodes, Dustin Rhodes, Frank Turner, Andy Black, Jaret Reddick, and many others. Gary also creates video content for BBC, writes for Sportskeeda Wrestling, and regularly features on the Wrestling Daft podcast, as well as recently appearing a guest on TalkSPORT's talkWRESTLING show. His work has been sourced by FOX, CNN, NBC, MSN, Yahoo, People, Bleacher Report, and others - with one article featuring in an official trailer for WWE's Total Divas on E!
See more from Gary